Multiple Reviews
New Chicago Underground: Jason Adasiewicz and Tigersmilk
It is sometimes said that what separates Chicago from other music towns is a wide-open expansiveness in the music's sound, as compared to the condensed urbanity of New Yorkers. But something more poignant comes through when talking with some Chicago musicians—that no matter what the subset, there's a feeling that the Chicago playing field is a lot more about a collective sense than individual soloists.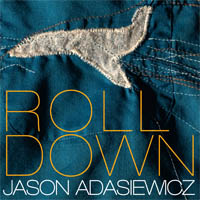 Jason Adasiewicz
Rolldown
482 Music
2008
Rolldown is vibraphonist Jason Adasiewicz' first date as a leader. He has made appearances in Rob Mazurek's Exploding Star Orchestra among other groups. He's joined here by a quintet featuring cornetist Josh Berman, reedman Aram Shelton, bassist Jason Roebke and drummer Frank Rosaly on seven originals. On the up-tempo numbers there is a glassy ethereality in Adasiewicz' attack, which naturally feeds into his work with Mazurek. He and Roebke lay out on the clarion call of "Good Looking Android," Berman's fat swagger in dialogue with Rosaly's loose surges and fills. When vibes and bass enter in bright cumulus and disappearing walks, the energy they provide takes the music into an entirely different area. "Small Potatoes" couples a bumpy walk with long tones, a tension held and expanded as Adasiewicz' glass drops pelt the taut pull of bass and percussion. "Valerie" is a poem of high harmonics and distant clatter that grows into and out of a woody, filmic vignette. Jagged linearity and brushy, sparse circularity seem to be the two areas of Adasiewicz' specialty and it will be very interesting to see how they combine in years to come.


Tigersmilk
Android Love Cry
Family Vineyard
2008
Android Love Cry is the third record by Tigersmilk, the cooperative trio of Roebke, Mazurek and Vancouver-based drummer Dylan Van der Schyff. Though these 13 improvisations are credited to the group as a whole, the titles (and the title of the album) are reference points to Mazurek's opera-in-progress, based on the life of imaginary science-fiction writer Helder Velazquez Smith. In addition to a much-talked-about recent orchestral collaboration between the two trumpeters, Mazurek has been studying with Bill Dixon. The directness and clarity of his wispy phraseology here is proof of that kinship. Delayed and reverberated brass strokes along with fat smears and screams make up a significant part of Mazurek's language, assisted by laptop-generated sounds. As a trio, Tigersmilk flitter, fray and congeal, though the actions may blend more than the sound sources themselves. The lyrical call is sometimes very distant, at times foregrounded by electronic whirs or supported by padded thrums, but as gauzy as they might be, the trumpeter's words come through quite clear. Van der Schyff doesn't keep time, rather expanding and contrasting the density of his activity, a system of rattling angles and brushwork that accents Mazurek's melodic pulse. One thing is for sure, these young groups do not sound like anything else in creative music.



Tracks and Personnel
Rolldown
Tracks: Good Looking Android; Small Potatoes; Valerie; Creep; Nearby; Little Screw; Gather.
Personnel: Jason Adasiewicz: vibraphone; Aram Shelton: alto saxophone and clarinet; Josh Berman: cornet; Jason Roebke: bass; Frank Rosaly: drums.
Android Love Cry
Tracks: Poured Over Waves Ecstatic Charge; Falling Signals Rising; The Last Moments After Death; Spirit Spore Flash; Stillness Among Mercury Trees; Love Into Earth's Shadow Liquid; Before A Blinded Spirit Life Planet; Already Crippled by Water and Wind; Minimal Distress Code; To the Face of Beauty Concealed in Shadow-Wire; The City Conducted; Night and Falling Tears; Circuit Overload Demise.
Personnel: Rob Mazurek: cornet, banjo, laptop and electronics; Jason Roebke: bass; Dylan Van Der Schyff: percussion.
---
FOR THE LOVE OF JAZZ
All About Jazz has been a pillar of jazz since 1995, championing it as an art form and, more importantly, supporting the musicians who create it. Our enduring commitment has made "AAJ" one of the most culturally important websites of its kind, read by hundreds of thousands of fans, musicians and industry figures every month.
WE NEED YOUR HELP
To expand our coverage even further and develop new means to foster jazz discovery and connectivity we need your help. You can become a sustaining member for a modest $20 and in return, we'll immediately hide those pesky ads plus provide access to
future articles
for a full year. This winning combination will vastly improve your AAJ experience and allow us to vigorously build on the pioneering work we first started in 1995. So enjoy an ad-free AAJ experience and help us remain a positive beacon for jazz by
making a donation today
.
Instrument: Vibraphone
Article Coverage
|
Calendar
|
Albums
|
Photos
|
Similar Artists
Post a comment