Rob Mullins
Rob Mullins has built his musical reputation in the Hollywood world with a solid string of releases in the contemporary jazz field over the past 30 years. His rise to international acclaim as a composer and performer began with his "Soulscape" project, which earned him a Grammy Nomination for composition. Since that time, Rob has gone on to record 33 CD's of his music, three of which went Billboard Top Ten. His latest releases include "Only in Venice" (July 2017) "Over the Rainbow" (March 2017) and "Wistful Thinking" (released on iTunes and Amazon March 20, 2018). Starting out on drums at age 11, Rob became a touring professional with a California Big Band by age 12, doing his 6th grade homework on a tour bus. A car crash at 14 (he was a pedestrian) forced a musical switch to the piano. During this time Rob also mastered the saxophone, bass, percussion, and guitar. At 16, Rob began composing, arranging, and formed his first band.
After attending the University of Northern Colorado on a percussion scholarship, Rob studied theory and composition from George Russell in New York on a National Endowment for the Arts Grant. The release of his "Soulscape" project brought him back to California where he is now an in demand composer, arranger, producer and session musician.
As a live performer, Rob's credits read like a who's who of the Hollywood jazz, rock and pop scene. He has performed with Hubert Laws, Ronnie Laws, Bruce Willis, Brandy, Hoyt Axton, The Crusaders, Dianne Reeves, Dianne Schuur, Dave Grusin, Edgar Winter, Eddie Money, Billy Preston, Ricky Lawson, Harvey Mason, Eric Marienthal, Kirk Whalum, Gerald Albright, Brian Bromberg, Frank Gambale, Denver Symphony, Bunny Brunel, Greg Vail, Jimmy Roberts, The China Club All Stars, Patrick Swayze, James Woods, James Moody, Spike Robinson, Ollie Woodson, Paul Jackson Jr., The Meeting, Dwight Sills, Alphonso Johnson, Ndugu Chancler, Jon Gibson, Steve Ferrone ,the Cabana Boys, and others. Some of the venues Rob has appeared in include the Blue Note Clubs around the world, Planethollywood locations around the world, the NAMM Show, Ronnie Scott's, Brad Pitt/Jennifer Anniston Wedding, The House of Blues, Anaheim Convention Center, Playboy Jazz Festival, Hanoi Opera House, Colorado University, The World Trade Center, Village Vanguard, Jazz Bakery, Manchester Craftsmen Guild, Humphrey's, Lodi Arts Commission, Sculler's, Disneyland, and BB King's Blues Club in Universal City.
Read more
March 03, 2010
April 13, 2009
January 10, 2009
October 13, 2008
June 28, 2008
June 11, 2008
June 06, 2008
May 14, 2008
April 15, 2008
March 06, 2008
"A classic acoustic trio set, Rob Mullins at his best." – Scott Yanow, jazz journalist/historian
"A gifted improvisor who can tiptoe or stomp" San Francisco Chronicle
"We love your new album STORYTELLER" Lee Berk Berklee School of Music
"Highly recommended" Rick Anderson ALL MUSIC GUIDE
"One of the true unsung heroes of contemporary jazz" Jonathan Widran ALL MUSIC GUIDE
"Breathtaking and tremendously moving, his compositions are a pleasure" Bernard Bauer Music Connection
"Pianist Rob Mullins makes major statements in both jazz and a combination of Latinized-rock into a fusion that is all his own" Glenn Mitchell LA JAZZ SCENE
"Rob Mullins is so far ahead of everybody else, it will be awhile before the rest of the world catches up, if they do." Bubba Jackson KJAZZ Radio FM 88.1
"Rob Mullin's STORYTELLER CD is one of the best musical compositions I've ever heard
Primary Instrument
Piano
Location
Los Angeles
Willing to teach
Advanced only
Credentials/Background
A dedicated instructor for 30 years, Rob Mullins runs a top music school in Los Angeles tied to the entertainment industry. Curriculums include jazz studies for piano, wind instruments, singers, and percussionists. Rob also teaches many technology students interested in studio production, songwriting, music for the internet, and music business students. Full information is available at www.planetmullins.com/lessons.htm. Interested musicians can send email to [email protected] for more information.
Clinic/Workshop Information
From: TRUE
By Rob Mullins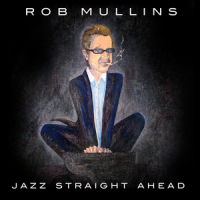 From: Jazz Straight Ahead
By Rob Mullins
From: Storyteller
By Rob Mullins