Keith Andrew
Contemplation is the long awaited second release from San Francisco based guitarist and composer Keith Andrew. This beautifully produced CD not only features the masterful guitar work of Keith Andrew, it also showcases his multi-instrumental compositional talents creating beautiful and melodic textures and soulful grooves. The CD also showcases the beautiful photographic work of Jim Casada.
Some of the notable tracks are the energetic and funky "Today's the Day" and the title track "Contemplation" featuring his exceptional electric and acoustic guitar work. Keith Andrew also does a bluesy and eclectic version of the classic "Tequila" paying homage to his guitar heroes Wes Montgomery, George Benson and Larry Carlton. Adding to the rich and contemplative tone of the album is the stirring and meditative "Cool Breeze" featuring the vocals and lyrics of singer songwriter John Mize. The album also features a high energy Latin and world inspired composition "First Kiss" which further demonstrates Keith's improvisational sophistication.
The CD would not be complete without the hard driving blues and rock edged fusion tunes: "Boyo Poyo" and "Meathead" showcasing the Jazz Funk Fusion roots of Keith Andrew. This new project also features the exceptional bass playing of Marcus Phillips whose credits include: Tony Toni Tone, Ledisi and the Oakland Interfaith Gospel Choir.
Keith Andrew studied jazz and contemporary guitar at the Musicians Institute in Los Angeles. He later went on to record, tour and perform with one of LA's top jazz funk fusion bands, Himalaya. Returning to his San Francisco bay area home, Keith has performed in many of San Francisco's top jazz and rock venues adding his guitar touch to the world/African band Zulu Spear, jamband midihorn master Cecil P-Nut Daniels and performed and recorded with jazz keyboardist Walter Earl.
In addition to forming his own group The Keith Andrew Band, his compositions and guitar work have been featured in the independent film Loving Alfie. Keith Andrew spends much of his time composing and producing in his Sonoma County based Studio 105 and is currently working on a 3rd solo release. If you have been contemplating adding a great new smooth jazz CD to your collection, you will not go wrong with Keith Andrew's Contemplation!


Recordings: As Leader | As Sideperson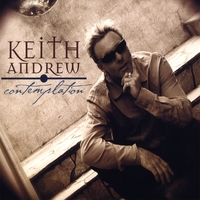 Hard Tail Records
2007
buy