Ned Boynton
San Francisco Chronicle Music Critic Phil Elwood referred to Ned as "a wonderful guitarist".
Ned is the Musical Director for Enrico's Sidewalk Cafe in North Beach.
Ned is the Artist manager and Associate Director of Bruce Forman's non-profit organization Jazzmasters Workshop.
Ned has played with Bucky Pizzarelli, Howard Alden, Mundell Lowe, Bruce Forman, Les Paul, Dan Barrett, Raul Reynoso and many others
He has been featured as a performer and writer in Just Jazz Guitar and JazzNow! Magazine. His performances have been featured on KCSM Radio, KALW Radio and on channel 53 Musician's Showcase.


In the blizzard of record promotion and the barrage of radio coverage it would be easy to overlook guitarist Ned Boynton's "North Beach Sound", but to do so would be your loss. It's a fine example of small-group, basically acoustic, jazz, with a repertoire of ballads and bebop, a blues and a bolero. Contributors include the legendary Mundell Lowe and the masterful Bruce Forman. It's always good to hear Jules Broussard, whose saxophone provides sonic variety; and the interactions between Ned, Jules and bassist Bing Nathan reveal the legacy of their regular gigs in North Beach. Michael Burman - KCSM-FM jazz Radio (Oct 20, 2006)
Primary Instrument
Guitar
Willing to teach
Intermediate to advanced
Credentials/Background
Ned was a featured clinician at The 6th North Wales International Jazz Guitar Summer School in Wrexham, UK, August 2005. Ned taught 80 students over 4 days and played in featured concerts with Bucky Pizzarelli, Anthony Wilson, Gary Potter and others. Ned teaches privately in San Francisco. Please contact for available hours and rates.
Recordings: As Leader | As Sideperson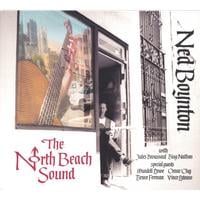 Boynton Productions
2005
buy