Eddie Bo
Edwin Joseph Bocage, known to music lovers around the world as 'Eddie Bo', was born in New Orleans, raised in Algiers and the 9th Ward. Having come from a family that is legendary in the traditional jazz community (cousins Henry, Charles, and Peter, had all made important contributions playing with the finest jazz orchestras prior to World War II), after graduating from Booker T. Washington High School and spending time abroad in the Army, he returned to New Orleans to study composition and arranging at the Grunewald School of Music. It was here that Eddie Bo developed a unique style of piano playing and arranging that incorporated complex be-bop voicings, influenced by Art Tatum and Oscar Peterson. His mother and Professor Longhair, whose playing styles were similar, were major influences on Bo as well.
In a career that spans well over five decades, Eddie Bo has made more 45's than any artist has in New Orleans other than Fats Domino. He has produced records for Irma Thomas, Robert Parker, Art Neville, Chris Kenner, Al "Carnival Time" Johnson and the late Johnny Adams. Bo is a prolific songwriter, having penned several timeless songs: "Check Mr. Popeye", "It Must Be Love", "I'm Wise" (made famous by Little Richard under the name "Slippin' and Slidin'") and the hit recorded by Etta James, "My Dearest Darling". He also wrote Tommy Ridgley's "In The Same Old Way" and further demonstrates genius in the realm of contemporary New Orleans funk on the highly creative works, "Hook and Sling" and "Pass the Hatchet."
During the 1950's Eddie Bo led a group of stellar New Orleans sidemen around the country backing such vocalists as Ruth Brown, Joe Turner, Lloyd Price, Smiley Lewis, Earl King, the Wild Magnolia Indians, Algiers brass Band, Treme Brass Band, the late Johnny Adams and the Platters. His versatility and professionalism have had a vital impact on the world of contemporary New Orleans music. As a vocalist, he is one of a kind. As a pianist, he transcends categorizing. His spirit and vitality are an inspiration to musicians all over the world.
Bo has had many of his early 45's reissued on compilations and has contributed to the works of many other artists, including The Dirty Dozen Brass Band and George Porter, Jr.
Throughout his career, Eddie has self-produced several CDs and toured Europe in a series of stadium concerts which drew record setting audiences.
Although called a 'one man orchestra' by Jon Pareles in a New York Times review, Eddie continued to perform with his band at private events in and outside of New Orleans and in Europe.
Read more
Recordings: As Leader | As Sideperson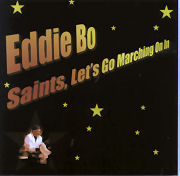 Repertoire Records
1995
buy