Bubber Miley
Bubber Miley's hot trumpet was featured - growling and moaning - on the nightly broadcasts of Duke Ellington's Washingtonians from the Kentucky Club, New York City in the twenties. He wrote the bands early theme-tune, "East St. Louis Toodle-oo," and was pivotal in the transition of the Washingtonians from a sweet society band to the hot "jungle" band which sparked national attention. This period of Ellington's music saw the recording of much fine traditional/classic jazz featuring Miley.
James "Bubber" Miley was born in Aiken South Carolina on 3 April 1903 and his family moved to New York when he was six. The family was predisposed to encourage his musical development; his father was an amateur guitar player and his sisters performed as a professional vocal group (the South Carolina Trio). Bubber first studied trombone in school then switched to trumpet. In 1918, at age 15, Bubber joined the Navy, where he served 18 months as a band boy. After his discharge, in 1919, he returned to New York and got his first professional job with a band called the Carolina Five. By early 1921, he was playing with Willie Gant's band. The band was heard by Mamie Smith, and she hired Bubber to replace Johnny Dunn. For the next year, Bubber toured and made recordings (Bubber's first) with Mamie Smith and Her Jazz Hounds.
Where did he learn his skill with a mute? On the road in Chicago with Mamie's group, Bubber dropped in to listen to Joe King Oliver's band and came under the influence of this New Orleans cornet legend. Nightly, Bubber returned to absorb Oliver's use of mutes and thrill to Oliver's Creole Jazz Band. In this way his playing took on essential elements of the New Orleans tradition, especially the blues. Miley pioneered the use of the straight and the plunger mute in combination, fusing two of Oliver's techniques.
While sitting in with Willie "The Lion" Smith's band, at the Capitol Palace (NYC). He was first heard by members of the Washingtonians, including young Duke Ellington. On September 1, 1923, Bubber Miley made his first appearance with the Washingtonians. At that time, the band was still under the leadership of Elmer Snowden. Bubber played regularly with the band, but he did not become a permanent member, until June 1926. During the interim, he made numerous recordings, especially in accompaniment to popular jazz vocalists. In the same period, Bubber also recorded with Clarence Williams, Perry Bradford, the Six Black Diamonds, the Choo Choo Jazzers, the Kansas City Five, Charles Booker's Jazz Band and the Texas Blue Destroyers. Of course, he also recorded with the Washingtonians, which made a couple of Victor tests, under the name of Snowden's Novelty Orchestra (Oct 1923), as well as the band's first recordings under Ellington's leadership (Nov 1924).
Read more
Recordings: As Leader | As Sideperson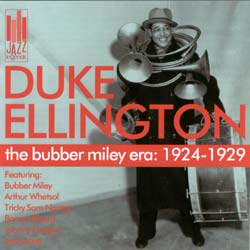 Document Records
2005
buy