Bob Siebert
"LIVE @ STEINWAY GALLERY" was recorded direct to DAT with no editing except for fading on applause. This collection of Standards originally appeared on the old MP3.com website, where it received over 15,000 plays. The trio on this CD was my working band that had been together for over 9 years. With the exception of "My Bohemian Legacy", my other CD's consist of all original pieces.
I sometimes perform on the African thumb piano. "Pieces of the TRANS-World Suite" is a solo CD of my music performed on a variety of these instruments.
My latest project is my collaboration with bob Lepre. I perform on a Circuit Bent SK1 Keyboard and he plays electronic percussion. My 1st recording for the SK1 was "Rrrring tones!" This piece received is premier at the Spark Festival of Music and Art @ the University of Minnesota. We are presently work on a CD called "Tunes for Tomorrow, Noise for today". This is a collection of original pieces and classic Jazz standards
You can listen to samples of my work at cdbaby.com/bobsiebert, iTunes and YouTube.com/bobsiebertsmusic.


Gear
In addition to my Knabe grand I enjoy playing any well maintained acoustic piano, particularly the 9 foot Steinway on the "Live at Steinway Gallery" CD I've performed on a variety of electric keyboards starting with my customized Wurlitzer piano on my CD "New Day" to the proteus piano module on "Pictures" and "My Bohemian Legacy". My vast collection of African Thumb Pianos are always a joy to play, particularly outside, where they seem to connect with nature in some special way! these can be heard on the "Pieces of the TRANS-WORLD Suite" CD. My newest keyboard is the circuit bent SK1. This instrument was built by Patrick Gill 4 years ago. It is my electric keyboard of choice at the present time. Lastly is my Schoenhut toy Piano. I have some pieces for it which will be posted to YouTube shortly.
"Rrrring Tones!" [Unsigned Artist of the Month]
Influenced by the prepared piano works of John Cage, bird songs heard in his neighborhood, and Dadaism, Bob Siebert presents his own flavor of compositional quirkiness with Rrrring Tones. The charming album features 15 short pieces, all of which were written for and performed solo on a circuit-bent Casio SK-1 keyboard, an instrument built by Patrick Gill. Minimalist and intelligent throughout, Bob's album carefully blends harmonies with the sometimes grinding, sometimes-pure lo-fi tones of the SK-1, treating it as a serious instrument, rather than a funked-up toy
Primary Instrument
Multi-instrumentalist
Willing to teach
Beginner to advanced
Credentials/Background
I have been teaching for the last forty years. Many of my students have gone on to careers in the music business. My philosophy of teaching consists in self motivation of my students, an emphasis on creativity and musical exploration, and a solid background in technique and repertoire. I'm in the North New Jersey area. My availability is on Monday, Tuesday, Thursday and Friday from 10:am to 6:30PM. I charge $35 per 1/2 hour at my studio. Lessons are once or twice a week, either 1/2 or full hour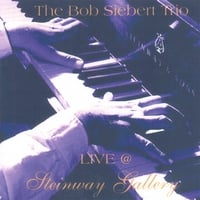 New World Records
1983
buy