Clayton Wright
Clayton Wright Jazz Piano Trio has released three new jazz cds, 1. Jazz Escapades (2005), 2. Jazz Voyages (2006), and 3. Serenade in Blue (2007) with polymodal and polytonal harmonies and melodies used in a way that is unique. Previous CD publications include: 1. Reflections (Audiosphere), 2. Moondust (Audiosphere), Preludes and Reveries (Audiosphere) and tunes on compilations including: 1. Night, and 2. Morning (Doremi), Momentum on Coffee and Jazz (Coffee House Music, CD Review), and Spiegel der Liebe(Salzburger Echo, Fanfare Publications). Clayton Wright Jazz Piano Trio plays traditional jazz, swing, and bebop.
Primary Instrument
Piano
Willing to teach
Advanced only
Credentials/Background
Bachelor's and Master's in Music Composition and Piano. I teach beginners, intermediate, and advanced through the Master's level in music composition and piano to advanced level in classical. We never quit learning jazz, and we learn from famous jazz players. I can help you with piano and composition technique to an advanced level.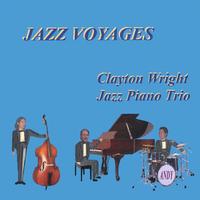 Audiosphere Music Company
2005
buy