Mônica Vasconcelos: Brazil Songs of Resistance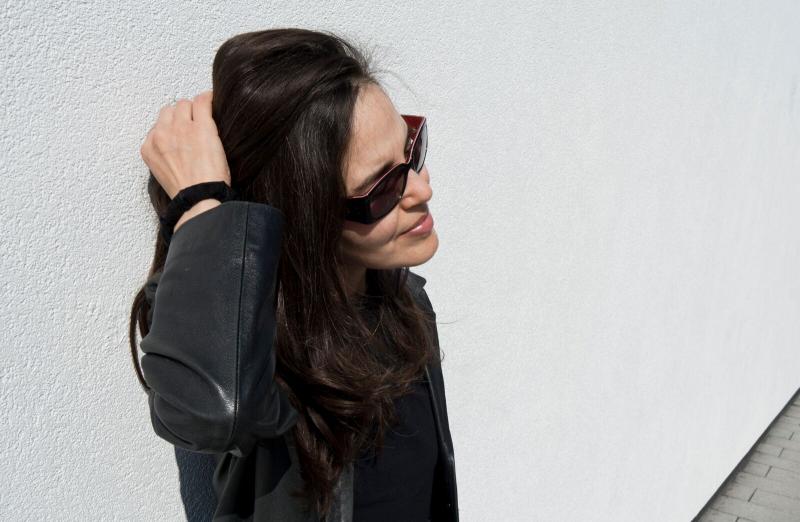 A tanned, beautiful young woman in a skimpy bikini walks through the lapping sea waters on the edge of a sun-soaked beach. Soft music plays, its shifting beat following her footsteps. It's a cliché, of course, but a powerful one when it comes to thoughts (male, mainly) of Brazil and its music.
UK-based Brazilian singer
Monica Vasconcelos
' new record,
The São Paulo Tapes— Brazilian Resistance Songs
tells a different tale. It may not shatter the fantasy but those who hear its stories will come to a deeper, more profound understanding of Brazil and it's musical culture.
Monica Vasconcelos was born in 1966, two years after the military coup that plunged Brazil into a dictatorship that lasted twenty-one years. The sunny optimism of bossa nova arose arisen during a time of great national optimism. It reflected a country finding its identity and embracing the world and brought Brazilian music to a wider global audience. The coup closed all that down but did not destroy the hopes and aspirations of the Brazilian people.
Vasconcelos grew up during those dark years but left home a couple of years after the restoration of democracy, preferring to seek her creative fortunes in Europe. One of the main reasons for her decision lay in her love of jazz and desire to bring Brazilian music and jazz closer together but in her own way.
"I came to London—officially to study English," she says. "That was what I told my family. But deep inside, I had already fallen in love with jazz and wanted to blend my musical experience and the heritage of Brazilian music with other things, particularly jazz."
The two decades plus that Vasconcelos has lived in London have seen a lot of changes. There have been great successes in her career as a musician and in her second career as a journalist for the BBC World Service. At the same time, the fortunes of jazz and musicians such as Vasconcelos have flowed and ebbed. She also lives with a degenerative eye condition called retinitis pigmentosa and has described this poignantly in a BBC World Service documentary—"Losing my Sight and Learning to Swim." Yet, good times or those less so, she remains positive, saying, "I feel the less I see, the more I focus on other things.
Hermeto Pascoal
, who has poor eyesight due to albinism, once told me, 'Sometimes, seeing too much can get in the way.'" Supported in part by an Arts Council grant,
The São Paulo Tapes
offer the latest and perhaps finest example of this highly talented singer's work and vision. The songs were chosen with great care to represent some of Brazil's finest songwriters and composers—people like
Joao Bosco
and Aldir Blanc, Chico Barque and
Caetano Veloso
. But, just as importantly, they were picked to reveal life under the dictators and the way that the poetic imagination evaded the censor's pen to describe what was happening in the country. These were times when a word could mean torture, imprisonment or exile. It is this which gives this labour of love its depth of feeling, its passion and its hope for a better world.
"Although nobody was actually involved in politics in my family," she tells me, "my paternal grandfather in Brazil in the thirties in Brazil was a sympathiser of a communist-leaning party. He was imprisoned and tortured by the fascists. Then, the coup came in '64. My grandfather had moved to a different place to protect his family. Thirty-four years later he was living in a different state and he was denounced as a communist by a local priest all over again. He was again taken into prison. He had no political involvement but the fact that he was tortured in the thirties and imprisoned again in '64, that affected the family very much."
The dictatorship cast a long shadow. Vasconcelos' younger brother was taught history by a woman whose daughter was taken by agents in the middle of the night in her pyjamas and never seen again. A friend of the Vasconcelos family lost a sister. Lays were interrupted and the actors beaten up. So many horrors emerged when the singer was researching the documentary
Brazil: Confronting the Past
, for the BBC World Service.
"There is a reason why I wanted to do
The São Paulo Tapes
," Vasconcelos explains. "These songs on the album are born out of these events. These singers and writers, they knew what was going on. It is such a heavy story to tell you. And none, not one of the people who committed these crimes have ever been judged and punished. In Chile and Argentina—yes. But not in Brazil."
Dark times and darker crimes, indeed. But these are songs of resistance and speak to the human spirit of resilience and survival. I speak no Portuguese but this is no handicap when it comes to music as rich and uplifting as this. David Treece, who teaches Brazilian culture and literature at King's College London, has provided excellent sleeve-notes and translations. As for the music, it is rich in the many colours of Brazil—of sambas, ballads, baião, ijexa and bossa nova.
The album opens with "Agnus Sei" ("Lamb that I am"), written by João Bosco and Aldir Blanc. It begins as a heart-stopping ballad but shifts into a faster-paced chorus section. Its title parodies the Catholic "Angus Dei" and uses the medieval crusades as a powerful metaphor for the CIA-backed coup and cold war rhetoric that brought an end to the left- leaning government of President João Goulart.
"Abre Alas," from
Ivan Lins
and Vitor Martins, is equally beautiful with its subtly complex bossa rhythms and some lovely guitar from long-time associate Brazilian Ife Tolentino and piano from
Liam Noble
. The song was recommended to Vasconcelos by Aldir Blanc and uses the metaphor of carnival to speak of liberation, a frequent theme in Brazilian song.
"London, London" was composed by Caetano Veloso in 1971 during his years of exile in the UK capital. Accompanied mainly by just acoustic guitar and Israeli-born bassist
Yaron Stavi
, it talks of the losses experienced by the banished and of the longed-for return home. But the lyrical ingenuity of Gonzaguinha's "Comportamento Geral" and of "O Mestre-sala dos Mares," by Bosco and Blanc, take the art of song-writing to new levels. The first tells of the personal degradation of enforced conformism imposed by the regime, while the second recalls a Afro-Brazilian naval uprising from 1910, a message that did not escape the censor. If anything, the contrast between the warmth and lightness of the music heightens rather than detracts from that message.
David Treece is an important figure in Vasconcelos' ongoing "São Paulo Tapes" project, which includes a series of workshops in association with Treece and King's College.
"The idea is that with these workshops we will create more resistance music, more resistance poetry," Vasconcelos explains. "We want to feed on what people tell us. We are working with a performance poet called Francesca Beard to create words, poetry and lyrics for new music that we are going to be writing. After
The São Paulo Tapes
, I felt this need to create a dialogue with this gorgeous music that was written fifty years ago. We need some resistance music for now—we really need it." Given the album's humanistic concerns, it's no surprise that it was produced by
Robert Wyatt
. The pair connected when Wyatt chose Vasconcelos' album,
Gente
(Candid 2004) as a personal favourite in a piece in the
Times
. The singer sent Wyatt a thank-you letter through their mutual friend trombonist
Annie Whitehead
. "He wrote back a lovely letter with all these different colours and smelling of incense," she says, "saying all sorts of lovely things."
Later, Wyatt agreed to collaborate on Vasconcelos'
Hih
(Triple Earth 2008), perhaps her hardest to classify recording so far, perhaps, as she suggests because of its distinctive combination of unique individuals and musical ingredients. Wyatt provided backing vocals and wrote songs with pianist
Steve Lodder
and bassist
Dudley Phillips
. Wyatt's partner, Alfreda (Alfie) Benge also wrote several lyrics for the album. Then, Vasconcelos contributed vocals to "Just As You Are" on Wyatt's
Comicopera
. In fact, it was through Wyatt that I first heard of the Brazilian singer.
"When I did the
The São Paulo Tapes
, I went to Sao Paulo with the lovely guitarist Ife Tolentino," she tells me. "I came back with the songs, just guitar and vocals and I wanted to try something different. So, I called Robert and I said, 'I can't afford you but can you recommend someone to produce it?' He said, 'I hear you Monica." Then, he said he would produce it and wouldn't charge me." (laughing)
And she continues, "The album, it's very Robert. Songs written in Brazil during the dictatorship, songs of resistance and refusal. That is everything to do with Robert and I knew once he heard these songs, he couldn't resist them. These people were gods of song-writing. They are really. I always think we have to expand the vocabulary of song, of what good song-writing is on the planet. We have to get out of the Anglo-Saxon bubble. We have to bring more things in. I think what these guys have offered, it's so unique and powerful."
Vasconcelos recalls a home that was filled with music and singing in her teens in a local bar with a very fine Brazilian group. She also sang in a group featuring sixteen singers, doing harmony arrangements of classic Brazilian songs and new material. These were crucial experiences of what she calls 'creative democracy and collective creation.'
I ask why she felt she couldn't pursue the kind of music she loved at home and needed to relocate to the UK.
"Well, I tried a lot to work in Brazil," she says, "but I had a feeling, especially when I was at university, that my peers were into rock and pop. What is considered cool comes from abroad. I felt that I was going the wrong way down a one-way street. In Brazil, especially after the end of the dictatorship, we tended to value what comes from abroad much more than our own stuff. It is very hard to keep that musical tradition going."
In fact, Vasconcelos struck lucky from the outset. "I came to London and one of the very first musicians I am introduced to is pianist-composer, Steve Lodder," she tells me, "and he wants to work with a completely unknown singer like me just because he wants to explore the music I bring with me. I find myself in a situation where I am sharing the Brazilian repertoire. And I met these amazing guys."
Through the nineties, Vasconcelos ran a nine-piece band called Nóis that featured those 'amazing guys.' Today, the very idea that a group of that size might work regularly is almost unthinkable. But these were the years of resurgence in jazz.
"We rehearsed and rehearsed," Vasconcelos says. "The gigs weren't incredibly well-payed but there were plenty of them, so everyone could survive. So, I had the privilege in the nineties of writing with these guys, making music with them and inviting them to create these amazing arrangements for my music. Now, I look back and we were so happy. We didn't know what was to come."
As well as Steve Lodder and Ife Tolentino, Nóis included three remarkably gifted musicians in German saxophonist Ingrid Laubrock, trumpeter Shanti Paul Jayasinha and trombonist Paul Nieman.
Nóis
(Triple Earth 1996) was Vasconcelos' first release, a fine mix of original tunes with a few classics from Brazilian writers such as
Antonio Carlos Jobim
,
Milton Nascimento
and Caetano Veloso. It's a fine debut with influences from jazz, pop and soul. "Vestidinho" (Tolentino/Lodder/Vasconcelos) and "Outono" (Jayasinha/Vasconcelos) stand out amongst the original tracks, with Jobim's "Águas De Marco" and
Djavan
's "Asa" the best of the covers.
"Steve and I started writing songs together and Shanti and I began to write and I started writing with Ife," she tells me. "We had all this beautiful stuff. Because we were gigging, I felt we must record this to preserve it. It was organic. It was born out of what was happening."
Nóis Dois
(Triple Earth 1999) is just as good, though Vasconcelos expresses doubts about the digitally-produced sound on the record. The Lodder/Vasconcelos original "Oração" matches a fine tune and arrangement with top-notch playing and vocals. The João Donato and Gilberto Gil's "Bananeira" is the other highlight, while the baião of Victor Simon's "Quase Maluco" is great fun. Vasconcelos' voice is a wonderfully expressive instrument and the solos from Jayasinha, Lodder, Laubrock and Nieman are hugely sympathetic and richly expressive. The sense is of collective endeavour and achievement and never that of singer and backing band.
The next three records were recorded and distributed for Candid Records.
Oferenda
(2002) again featured the nonet, sadly for the last time as jazz fortunes in the UK again began to wane.
Bom Dia
(2000) and
Gente
(2004 are quartet records (albeit with guests) that bookend
Oferenda
's soul-influenced stylings neatly.
"With
Oferenda
, I wanted to do more of a pop record," she says. "I didn't want this over-serious stuff. Nowadays in Brazil there is a polarisation. You have the entertainment thing focused on the very superficial, shallow side of the music. Then you have the other side, which sometimes I find too serious. I just wanted to make a record with a pop approach but with substance. Not long ago, Ingrid sent me an email saying she had spent the evening listening to Oferenda. She went like, 'My god, how much incredible stuff we've done.' And you know Ingrid can be quite critical. I was very pleased to hear that from her."
Robert Wyatt's recommendation of
Gente
is well-justified. Along with
The São Paulo Tapes
, it is my favourite Vasconcelos' album to date.
"The record company sent us to Sao Paulo and Rio to record," Vasconcelos explains. "It was a great experience. We had this amazing guitarist and composer
Guinga
on it and we did two of his songs. It has a lot of different grooves on it and rhythms from different parts of Brazil. It's very jazzy with a lot of improvisation."
For Vasconcelos, Guinga provides a thread between today and Jobim and even Brazilian classical composer
Heitor Villa-Lobos
through to "deep music of Brazil since colonial times." Several other Brazilian musicians guest on the record, contributing to the collective vision that Vasconcelos and her musicians brought with them. One suspects that this is the key to the music's success. It has a depth and passion that belies its deceptive lightness.
Gente
and
The São Paulo Tapes
are special records. They make you feel good. The only way I can put it is that they lift you spiritually. It would be nice to think that music like this might provide a soundtrack for a healthier, more creative way of living in our world. However, as Vasconcelos says, "With globalisation, pop and rock, they are like a herb that grows really easily and takes over everything else in the garden. People get used to that one herb, so they cannot appreciate any other. If that rock beat is all you know, maybe it is hard for you to hear and feel the rhythms of Brazil."
Then, of course, there is the cosy, entangled relationship between the media and record companies, who, as she says, "are just thinking of money." Yet, those who seek and find music like this will feel enriched and come back for more. The state of things is no reason to give up and Mônica Vasconcelos isn't quitting any time soon. The nonet Nóis may be no more but the London Bossa Collective, as Vasconcelos calls the new band, has replaced it. Brazilian music—and lyrics— continue to march to a different drum.
"When I fell in love with music—I was 13, I remember the exact day—all I wanted to do was to sing," she says. I wanted to be the 'interpreter,' like in the old times. There were the singers—and the composers. I never expected to be writing songs. But I arrived here, found these guys and they gave me their music. I had to write lyrics, turn my experience into words. Nobody else could translate my experience, my vision other than myself. So, I did it. And it was a steep learning curve. I do cringe when I hear some of the early ones. Less so now. I actually feel proud of a few of them. In a quiet way."
And where does Vasconcelos go from here?
"Well, I have assembled a bunch of musician dudes, plus a performance poet, to create resistance music for the 21st century. I am so looking forward to this. I never feel ready. My role models are so high, up there but I am not running away from the challenge."
Selected Discography
The São Paulo Tapes—Brazilian Resistance Songs
MOVAS 005
Gente
Nóis 4 Candid CCD79784
Nóis Dois
Mônica Vasconcelos MOVAS 002
Nóis
Mônica Vasconcelos MOVAS 001
Post a comment