Ariel Shibolet: Metal Tube & Consciousness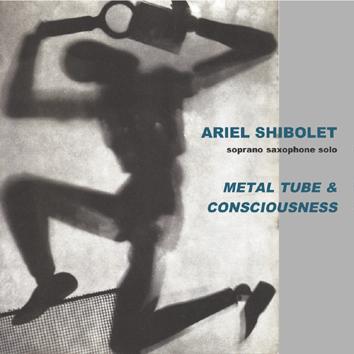 The legacy of improvised solo reed music began with iconoclasts such as Eric Dolphy, Joe McPhee, Steve Lacy, Anthony Braxton, Evan Parker, and Peter Brötzmann—and it is still being developed by a younger generation of players such as Ken Vandermark and John Butcher, all of who have made some strikingly unaccompanied works. Young Israeli soprano saxophonist Ariel Shibolet, 32, a key member of the Israeli free jazz combo known as the Tel Aviv Art Ensemble, tries to contribute to this challenging legacy on his first solo disc,
Metal Tube & Consciousness
.
Shibolet, who testified in a recent interview that his favorite contemporary musicians are pianist Cecil Taylor, reed player Evan Parker, and the late bassist Peter Kowald, all of whom made some groundbreaking solo works, is preoccupied in the small changes in sound and music and the listening experience. "When a player creates a smaller change than the listener can notice consciously and then continues to add identical changes, at what point in time will the listener start to notice these changes consciously?", he asks in his liner notes, and answers, "Interesting things can happen in that special period of time when the changes are not being consciously noticed, but only experienced."


Most of the sixteen tracks on Metal Tube & Consciousness, all recorded live in studio, are static and abstract improvisations, such as "Field n.1" and "Field n.2." On other tracks, such as the long opening track "Slow Change Slow Development," Shibolet presents a rapid sheets-of-sound attack, very close to the concept that Parker had already realized. In "Irish Song" Shibolet is consciously borrows the Scottish bagpipe sound that sometimes ornaments Parker's solo endeavours.


On these tracks Shibolet explores the sonorities and the different tones of his instrument and demonstrates his finest command of circular breathing and focused energy. But these tracks too often sound like a very personal and academic exercise that does not suggest any new musical ground beyond what was already realized by other musicians who had invented these original ideas on the first place.


In the few loosely composed tracks, such as "Four Voices In a Trill," with its echoing overtones, the fiery "Inner Voice (to Albert Ayler)," or the closing serene track, "Epilogue," where some more conventional musical changes can be discerned, Shibolet indicates that he is a sensitive and highly creative player who can offer a cerebral, challenging listening experience that's full of nuances and colors.
Track Listing
Slow Change Slow Development; For Bach I; For Bach II; For Bach III; Reflections; Black Stones on a Plate; Fueld n. 1; Irish Song; A Place to Be; Polyphony of Textures; Slow Irish Circles; Field n.2; Four Voices in a Trill; Irish Circles; Inner Voice (to Albert Ayler); Epilogue
Personnel
Ariel Shibolet- soprano saxophone solo
Album information
Title: Metal Tube & Consciousness | Year Released: 2004 | Record Label: Leo Records
Post a comment about this album