Unlikely Valentine by Ron Boustead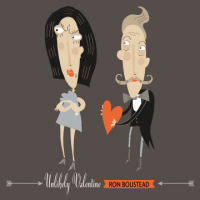 Buy Album
From the album
Album Title: Unlikely Valentine
Label: Self Produced
Released: 2017
Listen
Mon gosh! So many words, so little time. Veteran swinging with a bow to the vocalease of Steely Dan.
About the Album
A humorous bebop love story loosely based on the chord changes to "My Funny Valentine". Bill Cunliffe and Mitchel Foreman provide the arrangements and alternately accompany Boustead on piano, Rhodes, and Hammond B3, as well as Pat Kelley on acoustic and electric guitar, Bob Sheppard on saxes and flute, Bob McChesney on trombone, Ron Stout on flugelhorn, John Leftwich on bass and Jake Reed on drums.
Song Listing
Unlikely Valentine; Love Potion #9; Coffee; I Won't Scat; Til Now; Autumn Leaves; Love's Carousel; Along Came Betty; I Love My Wife; Love Came on Stealthy Fingers.
Personnel
Date featured
April 3, 2017
This song appears by permission of the contributing artist and/or record company.
It is for personal use only; no other rights are granted or implied.
Instrument: Voice / vocals
Article Coverage
|
Calendar
|
Albums
|
Photos
|
Similar Artists