Morning by Tomer Baruch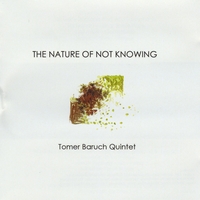 Buy Album
From the album
Album Title: The Nature Of Not Knowing
Label: Cool-Kalb Records
Released: 0
Listen
Broken link? Report it to us
About the Album
This is the closing track of my album - "The Nature of Not Knowing", a conceptual- philosophical journey though music and life. I have always been very fond of light and especially of mornings and therefore chose to end my journey, which is at times gloomy and confusing, with a touch of light, both to give the album a brighter perspective and to remind myself that morning is a thing that you can usually count on to happen every day...
Personnel
Date featured
April 11, 2010
This song appears by permission of the contributing artist and/or record company.
It is for personal use only; no other rights are granted or implied.