Joe McPhee: Collaborator
From the beginning, multi-instrumentalist Joe McPhee has had a tendency to go against the grain and more often than not, has recorded in non-standard jazz group formations. It's clear that he must view this as one essential way of continually reinvigorating his art. Additionally, he has always seemed game for new and unexpected musical partnerships. These two releases feature McPhee in anomalous situations and both add slightly different wrinkles to his ever-expanding discography.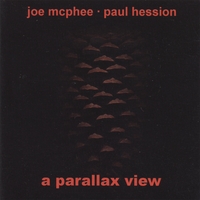 Joe McPhee/Paul Hession
A Parallax View
SLAM Productions
2006
McPhee and British drummer Paul Hession had played together once when the drummer was in America in 2002. That one date indicated they were kindred spirits, so Hession booked a small UK tour the following year. A Parallax View is the resulting document. Hession is a polyrhythmic drummer who accompanies McPhee (who plays soprano and mostly tenor) with wave-like swells that comment, surround, sometimes skitter around and sometimes prod McPhee but never overpower him. McPhee's playing, especially on tenor has that rapturous, almost- spiritual quality that infuses his best and most-involved playing. "Blue Coat, Blue Collar is a McPhee solo track where his control over the extended range of his instrument is a marvel to behold. Equally gripping is his soprano work on "Evocation . When he enters after Hession's drum solo, he bends and twists his phrases around Hession's rolls, sounding almost like a nadaswaram, before eventually leading into an affecting version of one of his favorite songs, "Goin' Home . McPhee's duet with drummer Hamid Drake, Emancipation Proclamation, is one of the finest in his discography. This one comes pretty close.


The C.T. String Quartet with Joe McPhee
Reqiphoenix Nexus
Cadence Jazz Records
2007
Bassist Dominic Duval and McPhee have been close musical partners for over ten years. In addition to being two-thirds of the long-running Trio X, they've helped each other on various projects. Duval has been bassist in McPhee's Bluette and McPhee has worked with Duval in several groups including his C.T. String Quartet. Reqiphoenix Nexus is an archival recording of the quartet's first incarnation, live at the Knitting Factory in 1999. The billing may be a bit of a misnomer since McPhee only plays (soprano sax) on the second track. It starts as a rhythmic rush before calming down to an Ayler-ian ballad then building to a beautiful swirling intensity. McPhee's soprano blends wonderfully with the quartet's textures. Makes one wish there were more. But the remaining tracks offer plenty too, especially the epic 25-minute closer which amply demonstrates the powerful intuitive interplay of the quartet and arranging and orchestrating skills of Duval in this format. Reqiphoenix Nexus is a fine document that shows the original C.T. String Quartet on a particularly effective night.



A Parallax View
Tracks: Tipping Point; Blue Coat, Blue Collar; From Eremite To Termite; Evocation; Love Is (Like Walking Naked On A Razor Blade); What Can We Do? (For Peter Brotzmann And Michael Zerang).
Personnel: Joe McPhee: tenor saxophone, soprano saxophone; Paul Hession: drums.
Reqiphoenix Nexus
Tracks: The Reqiphoenix Nexus Trine: Parts 1, 2 & 3.
Personnel: Dominic Duval: bass; Jason Kao Hwang: violin; Ron Lawrence: viola; Tomas Ulrich: cello; Joe McPhee: soprano saxophone.
Post a comment