Nick Scheuble: In The Pocket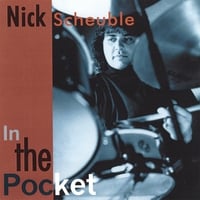 For most of the 1990s, drummer Nick Scheuble was a fixture on the New Jersey jazz scene. A bandleader with a knack for landing gigs on a regular basis in a variety of venues, Scheuble presided over a number of mainstream ensembles, including a piano trio, a quintet with two horns, an organ combo, and a quartet with a singer. Utilizing precise sticking and subtle changes in dynamics, he directed the flow of the music from the drum kit and brought out the best in other musicians without inviting unwarranted attention to his rhythms. In a concert hall before hundreds of people, or a bookstore coffeehouse in front of a couple of dozen, Scheuble's bands always played hard and put on a good show.
Scheuble's recently released disc, appropriately entitled In The Pocket, coincides with his homecoming after a year of playing in Europe. A welcome change from the tumult that characterizes much of today's jazz, the band functions smoothly within (and occasionally stretches) a swing-to-bop continuum. Despite its stylistic familiarity, the music sounds fresh and is full of surprising twists and turns. Working off of the cohesive foundation of Scheuble's drums and the bass of Tim Givens, three primary soloists display considerable depth and individuality. Trumpeter George Petropolis negotiates the mood swings of Charles Mingus' 'Fables of Faubus' with puckish humor which suggests he's not taking the epic composition too seriously. In contrast, alto saxophonist Andy Farber (who is also the record's producer) battles his way through the same irregular structure with a gravity that remains intact even after the execution of some Dolphy-like bird cries in mid-solo. Pianist Isaac Ben Ayala has plenty of opportunity to shine on the disc's three trio tracks, all of which are the leader's tunes. In particular, the taut, medium-tempo 'A Message For Art' shows why he's the ideal pianist for Scheuble's overall design'that is, a no-nonsense swinger who stays in touch with the bass and drums, and patiently builds momentum rather than going on any flights of fancy.
Occasionally stepping out of the role of unselfish ensemble player, Scheuble puts his drumming front and center in both unusual and conventional ways. On the opening track, 'Shubla Khan,' his solo is linked to Ayala's ringing, three-chord vamp. Even when his variations of single- stoke rolls on the snare drum (with the snares off) approach take off, Scheuble never seems to exceed the pianist's volume or dominate the proceedings. Consisting of a mere twelve bars, his brushes and bass drum introduction to 'Newark Blues' is a piece of music in itself. Although the drummer plays recognizable rhythms and implies a pulse, the total effect is that of interrupted stillness and time eerily suspended.
With his hi-hat incessantly snapping on two and four (think of Art Blakey), Scheuble's performance on a swift version Parker and Gillespie's 'Shaw' Nuff' is resolute in temperament and linear in structure. He plays the kind of solo you expect a lot of drummers with superior chops to be able to pull off, but rarely do. The difference is that Scheuble thinks his way through the whole sequence, doesn't grandstand, and never lets his technique get the best of him. After setting things up with short repetitive cadences around the drums without a cymbal crash, he saves the brilliantly fast, cleanly executed single-stroke rolls for the climax of the solo. As the rolls get longer and more complex, he both holds them together and produces more excitement with single hits to the bass drum, usually right on a downbeat, creating a nice contrast to the still audible hi-hat.
Track Listing
1. Shubla Khan; 2. Fables Of Faubus; 3. Shaw' Nuff; 4. Newark Blues; 5. A Message For Art; 6. Autumn; 7. Twelve Tones For Isaac.
Personnel
George Petropolis--trumpet; Andy Farber--alto and tenor sax; Isaac Ben Ayala--piano; Tim Givens--bass; Nick Scheuble--drums.
Album information
Title: In The Pocket | Year Released: 2001 | Record Label: Unknown label
Post a comment about this album