February 2005
By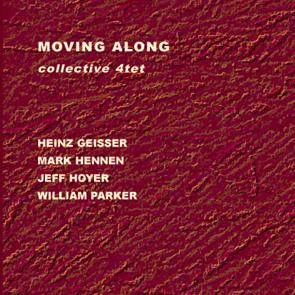 Collective 4Tet
Moving Along
Leo Records
The fifth recording by this quartet featuring eminent modern jazz bassist/composer William Parker is a cohesive improvisational foray, sometimes transmitting a liquefying effect. Trombonist Jeff Hoyer generally commandeers a sequence of motifs, sparked by a slightly turbulent group-based mode of attack. They do pick up momentum in spots, yet a portion of the overall fun factor upsurges within the soloists' sinuous and often wily interactions. Hoyer's muted trombone work instills a bit of pathos into the program, whereas pianist Mark Hennen and the rhythm section interconnect the dots via scurrying statements. The music is elusive, free, and consistent. Part of the success emanates from the musicians' intuitive exchanges, coupled with a distinct sense of mobility.


Bill Frisell

Richter 858

Songlines Recordings
Here, guitarist Bill Frisell's compositions are "triggered"? by eight Gerhard Richter (abstract) paintings. Supported by a three-piece strings unit, Frisell provides sinewy treatments to weaving and multidirectional mosaics that vividly follow suit with the respective artworks. There's a bit of angst interconnected with peaks, valleys and subliminal melodies. This acoustic-electric program should warm the hearts of the artist's fan base, especially those who enjoy his more avant stylizations. Moreover, the quartet instills an abundance of soul-stirring moods augmented by flowing movements and shockwave choruses.


Aqueduct

I Sold Gold

Barsuk Records
An interesting and multifaceted debut by this Seattle, WA unit that treads the generally opaque fringes of pop and progressive rock. With quaint themes and an overall sense of innocence, the group blends synths, heavy guitars and vocals into variable pulses and backbeats. And while the vocalists might not leave an indelible impression—think of a deadpan slant on The Beach Boys' Brian Wilson—the music is framed upon affecting melodic choruses. They engage in fairy tale-like themes, accelerated by a few odd-metered time signatures and artsy treatments. But more importantly, the group offers a nouveau perspective to roads frequently traveled.


John Hart Trio

Indivisible

Hep Jazz (2000 Series)
Guitarist John Hart and his trio lock in rather snugly for this potpourri of standards and originals. They adhere to the familiar guitar trio format, spinning a lively musical yarn via modern twists on standards, lithe funk grooves, and more. Hart intermittently steps on the pedal for dabs of pervasive, jazz-fusion fare and looms as a captivating soloist. Drummer Tim Horner and bassist Bill Moring provide sympathetic support throughout. Ultimately, Hart and his band sustain gobs of interest during this technically proficient and indisputably entertaining set.


Happy the Man

The Muse Awakens

Inside/Out Music
This legendary '70s and '80s East Coast USA progressive rock group goes against the grain here. Not stylistically or compositionally, by any stretch. How often have we heard rock bands give it another shot with generally sub-par results: the steam has dissipated and the writing might seem forced. For this reunion effort—featuring original members and new blood such as keyboardist David Rosenthal and others—the band has returned with a forceful vengeance. I'll go out on a short limb here, stating that this new release hits the mark in a colossal way. It's asymmetrical doses of lush harmonic movements coupled with knotty time signatures, regal choruses and meaningful soloing. It's a brilliantly orchestrated program, owing to the band's signature sound—nicely gussied up—with a nouveau overall vibe, offering a contemporary spin on familiar terrain. Few band of the prog-rock school are so effective at meshing tender themes with ferociously climactic arrangements. Essentially, the group exceeded even the highest of predilections and expectations. Magnificent!




Quick Picks



Forever Einstein

Racket Science

Cuneiform Records
The trio's latest record date proves that no other band can so distinctly meld psychedelics, roots music and pop innocence with intricate progressive rock arrangements. It all makes uncanny sense!


Michael Vogt

Argonautika

ReR USA
Michael Vogt extends the tuba's reach via electronics and tapes on this curiously interesting and sometimes bizarre set. Think of diluted thematic opuses coexisting with subversive frameworks and other abstractly devised implementations. Vogt is most assuredly on to something here. Quietly fascinating...


Carl Weingarten

Hand in the Sand: A Collection 1990-2004

Multiphase Records
If you're not familiar with West Coast guitarist Carl Weingarten's body of work, then this compilation is an excellent place to start. He's a supreme melody maker, possessing an enviable technique and singular musical persona. He uses slide, Dobro, and electric guitars and turns up the heat on occasion. In addition, Weingarten's self penned works, literally strike a chord. It's a high-caliber presentation, obviously construed for the listener's entertainment.
Post a comment
---
FOR THE LOVE OF JAZZ
All About Jazz has been a pillar of jazz since 1995, championing it as an art form and, more importantly, supporting the musicians who create it. Our enduring commitment has made "AAJ" one of the most culturally important websites of its kind, read by hundreds of thousands of fans, musicians and industry figures every month.
WE NEED YOUR HELP
To expand our coverage even further and develop new means to foster jazz discovery and connectivity we need your help. You can become a sustaining member for a modest $20 and in return, we'll immediately hide those pesky ads plus provide access to
future articles
for a full year. This winning combination will vastly improve your AAJ experience and allow us to vigorously build on the pioneering work we first started in 1995. So enjoy an ad-free AAJ experience and help us remain a positive beacon for jazz by
making a donation today
.