From the Inside Out
Detroit through New York to Berlin and Brazil: Music Beats Around the World
By
Detroit, USA
Don Byron
Do The Boomerang: The Music Of Junior Walker
Blue Note
2006
Through previous recordings in honor of Sly Stone, Igor Stravinsky, Henry Mancini and other influences on his highly individualized muse, Don Byron has demonstrated a great feeling for tributes. His sixth Blue Note release honors Autry DeWalt, who blew as "Junior Walker a string of saxophone/organ hurricanes that contributed mightily to the rock-soul wing of Motown Records at the label's peak.


Byron mostly matches Walker's tenor saxophone, exploring in "Mark Anthony Speaks the outer reaches of soul-jazz like an adventurous Eddie Harris sax excursion, then burning deeply into the red-hot, for damn sure "Satan's Blues. "Shotgun is the absolute rockin' shit, here rivaled for funky intensity only by the number immediately following, a churning and burning James Brown cover ("There It Is ).


But Byron also changes instruments twice, and both times to great effect: interpreting "Do The Boomerang on clarinet instead of on familiar saxophone keeps this title track from sounding or feeling like "just another saxophone groove, no matter how torrid, in the set; and bass clarinet makes the soft ballad "What Does It Take (To Win Your Love) sound happy yet sad, somehow almost Chaplin-like.


Though his own playing is plenty good and hot, Byron affords considerable space to guitarist David Gilmore and George Colligan on Hammond B-3 organ, plus guest guitarist/vocalist Chris Thomas King on two of Walker's most well-known hits, "What Does It Take and "Boomerang. For his part, producer Hans Wendl brilliantly replicates both the immediate, "in your face sound of Walker's original recordings and the articulate, classic Blue Note jazz sheen, too.


Byron does more than pick the right songs for this tribute, and even more than cast these songs in sympathetic keys and play the correct notes in the proper tempos. He captures the rocking and soulful spirit that fueled this turbo-charged music, which is an exponentially more difficult (and more satisfying) accomplishment.


Boston, USA
Club d'Elf
Now I Understand
Accurate
2006
About eight years ago, composer/bassist Mike Rivard began leading a "floating residency in Cambridge, MA, organized around the rhythm section, which pulsed behind a kaleidoscope of horn, keyboard, percussion and guitar players. After seven live releases, Rivard finally shepherds his "ever-changing performance ensemble into their first studio album.


No fewer than 25 musicians participate in the workshop, happily hammering around the core "Elves : Rivard on basses and sintir, a three-stringed bass lute from Morocco; drummer Erik Kerr; Mister Rourke on turntables; and Brahim Fribgane on percussion, oud and dumbek.


Miles Davis most likely would have laughed his ass off, but in the best way, at Now I Understand as a bastard child of Bitches Brew. Brew experimented with essential elements of modern jazz, rock and funk, in new ways, for new purposes; Now I Understand does essentially the same thing - experiment and improvise - but instead uses progressive rock, hip-hop and indigenous music as its raw material. Rivard explains that although many of the band are trained musicians and have come from the jazz tradition, they're also informed by the aesthetic of DJ culture.


Their exotic journey begins with "Bass Beat Box, a Club staple built up from Rivard's ascending bass scale and hammered down by two drummers (Jay Hilt plays "slow with Kerr on "fast drums). Electronic effects polish the drums to sound robotic, metallic—the pounding corrosive sound of futuristic funk.


A fluffy sound cloud ("Quilty ) melts into "Vishnu Dub, strikingly colored by Fribgane's oud and dumbek while guitarists Gerry Leonard and Duke Levine explore outer galaxies of sound. In the cool shadow of Jenifer Jackson's doe-eyed vocal, "A Toy For A Boy sounds like lost Syd Barrett, an oddly peaceful haven from the aggressive, relentless experimentation that follows in "Wet Bones (extended), an interstellar reggae-dub cryptogram that builds outward in layers, and the electro-ethnic tour-de-force "Visions Of Kali.


An octet that turns on guitarist Reeves Gabrels, John Medeski on keyboards and DJ Logic on turntables, paints a portrait in sound for the title track, an electronic thrust into the blackest heart of modern darkness.


Nigeria and Cuba through Iowa City, USA


Eufórquestra
Explorations In Afrobeat
Eufórquestra Productions
2006
The second release from this seven-piece ensemble seems quite purposeful. Subtitled A fusion of Nigerian and Cuban music rooted in Yoruba tradition, it explores the deep connection between West African Afrobeat and Afro-Cuban music channeled through the religious, ceremonial music of the Yoruba tradition of West Africa.


Purposeful? Detailed liner notes sure seem so. For example, they explain that the Yoruba are the largest single ethno-linguistic group in Nigeria and the second largest in Africa, and that Yoruba culture was connected with the west through the slave trade that brought West Africans to Cuba to work the sugar fields.


As dry as that may read, Explorations In Afrobeat explodes, dances and melts in your ear with sheer bliss. Two members of the septet, Matt Grundstad (percussion, lead vocals) and Adam Grosso (bass, vibes, vocals), studied in Cuba with members of Los Muñequitos de Matanzas and Grupo Afro-Cuba. The remaining five—Ryan Jeter (tenor saxophone, vocals), Austin Zaletel (alto saxophone, vocals), Mike Tallman (guitar, vocals), Josten Foley (drums, vocals) and Eric Quiner (keyboards, vocals)—never lag behind, as they collectively whip through this set comprising "The Orisha, the list of Yoruban gods each song ceremonially honors.


Flowing with thick, lusty rhythms that heat your blood, each musician's part interlocks so tightly with the others' that this music seems so coiled it might explode. Tallman strums and stabs guitar rhythms that sound both African (chiming juju in "Elegua ) and Caribbean ("Obatalá, with chords more familiar in western ears from reggae).


African guitar and Afro-Cuban percussion blossom from electric organ swells of "Ogún, then every instrument lifts up and sings in a joyous, communal and primal rhythm, with horn charts that stab equal parts melodic and rhythmic punctuation. Jeter's tenor saxophone solo wails like a siren to stoke even higher the rhythmic flame of this dervish named for the Orisha of metal and war who "also represents all forms of energy. Wisely named, "Ogún is twelve crackling minutes of pure electricity.


"With this album we have done our best to take elements of Nigerian and Afro-Cuban music and combine them with our own ideas, notes Grundstad. "Our intent is not to 'steal' music from other cultures but to learn from them and share them with anyone who is willing to listen.


Germany and Cuba
Klazz Brothers & Cuba Percussion
Mozart Meets Cuba
Sony Classical
2006
Few musical marriages can seem more oddly matched than a German classical/chamber trio with an Afro-Cuban percussion ensemble. Yet Mozart Meets Cuba presents astonishing work: Latin explorations of Mozart's timeless melodies that are true to the fire and passion, and to the almost mathematic precision, of Afro-Cuban and classical perspectives. Mozart's compositions remain refined and austerely beautiful (such as his Clarinet Concerto, for example, here presented as "Poema Con Cohiba ), but they rhythmically move forward with a smile and bounce.


Bassist Killian Forster, pianist Tobias Forster and drummer Tim Hahn were trained in classical music in Germany. Together they began to explore crossover music by stretching classical music out with important rhythmic, harmonic and improvisatory aspects of jazz, then formed the Klazz Brothers to explore their KLAZZ (KLAssic JaZZ) music. They befriended Afro-Cuban percussionists Elio Rodriguez Luis (congas) and Alexis Herrera Exteves (timbales) while performing in Havana; their combined ensemble constructs a cross-cultural instrumental quintet that moves between classical, jazz and Latin.


Whatever you call it, this quintet plays like virtuosos and brilliantly executes Mozart Meets Cuba. Tobias leads the ensemble with piano so sparkling and articulate—especially in "Salzburger Schafferl (from The Magic Flute) —that your ears may think you're listening to Dr. Billy Taylor instead. Later, his piano sets the table in "Calypso Facile (from Piano Sonata, K.545) for a finger-popping bass turn served a la mode with percussion.


Adding harmonica and trumpet expands "Don Muerte (from Don Giovanni) into cinematic territoty with the sound of a sunset closing a classic Western. "Cuban March also takes a bit of liberty with its original ("Turkish March ) to reshape the familiar melody into hot Latin jazz with explosive percussion/piano sections. It serves a great example for the entire Mozart Meets Cuba concept. You hear the familiar, classical melody but essentially as the starting point for genuine, excellent, new music based upon its theme.


Brazil
Thiago de Mello & Dexter Payne
Another Feeling
Dexofon
2006
Have you ever walked alone through a quiet beautiful woodland and stepped into an open space full of nothing but warm and growing brightness, and felt like nature was a cathedral and you were seated in its front row? Another Feeling sounds just like that: completely, naturally, immaculate and beautiful.


Dexter Payne on clarinet and alto saxophone creates this Feeling with writer/arranger Thiago de Mello on acoustic piano, guitar and "organic percussion, handmade instruments personally crafted from gourds, sticks, seeds, shells and other scraps from nature. No bassist, no drummer. The idea, says de Mello, was to avoid the traditional setup of piano, bass and drums combined with a horn.


Clarinet as lead instrument often lends a quaint air. "Tal Como O Vinho, moves with elegant and relaxed grace into a three-way dance among acoustic percussion, clarinet and piano, a miniature melody small in scope but not stature. "Kimbolian Dawn, written to showcase pianist Richard Kimball, pounces with the sunny bounce of ragtime. (I smiled more than once at thinking, "Now we know the sound of Benny Goodman jamming after hours at a piano lounge in Rio... ) Yet when Payne switches to alto saxophone to lead "What About That, his crisp, articulate swing echoes the Paul Desmond classic "Take Five.


Composed by de Mello as "sort of an answer to Jobim's 'One Note Samba,' "Two Good Notes swings upon piano and guitar as delicate and bright as the promise of a new dawn. "A Hug For Gil Evans, in memory of de Mello's friendship with Evans, forged through their shared affection for Brazilian music, opens with a native vocal chant before twirling between percussion, clarinet and spellbinding piano by Haroldo Mauro, Jr.


Vocalist Ithamara Koorax also lends her angelic voice. In the title track, she rings in the dawn as supremely bright as a streaming ray of morning sunshine, and she transforms "An Evening Prayer into a reverent piece that seems precisely that. Her turns in "The Exile Song and "Urumutum/Swing Low Sweet Chariot are just as gorgeous.


Berlin, Germany
Radio Citizen
Berlin Serengeti
Ubiquity
2006
Berlin's Niko Schabel knows what German techno-music pioneers Kraftwerk began demonstrating all those years ago: if people program them right, even machines got soul.


A multi-instrumentalist and producer who leads a jazz quartet and plays with The Last Poets and other groups, Schabel weaves together the electronic jungle of Berlin Serengeti from samples, loops and electronic textures, plus his own alto saxophone, kalimba, percussion, Rhodes, clarinet and bass clarinet, flute, synthesizer and vocals.


"I think Radio Citizen encompasses a lot of my influences, Schabel writes. "There are shades of my love for sixties jazz, funk 45s, soul, dub and reggae, hip hop, afro beat, electronica, trippy stuff, d&b, early eighties avant-garde, surf, the old school, the new school, Arabian music, Latin, boogaloo, rocksteady, whatever!....But the artist I admire most is John Coltrane.


It's a very modern electronica, and sometimes quite Teutonic, work. Yet it also sounds very influenced by jazz, specifically by two giants of modern saxophone, Pharoah Sanders and Coltrane.


So you can pluck from it two singles for dance clubs, "The Hop and "Championsound, skeletal post-millennial electro-funk cold-chillin' to the point of frozen. Or you can dig flute and saxophone as they lead thickly African bows to Sanders and Coltrane; more specifically, to the 1960-65 Coltrane quartet with pianist McCoy Tyner and drummer Elvin Jones. Jones' wicked, brutal sound turbocharges "Night II and "Voices into flute/percussion free-for-alls. "Density drops an incendiary bomb spiritualized with Coltrane's ghost, its saxophone growing like a hyrdra's many heads from the throbbing bass, its flute rustling in between like a rattlesnake in the weeds. "The Prophets sounds like Sanders trying on colorful flowing robes of jungle and hip-hop.


"Producing this record was kind of like playing a game, Schabel notes on the CD sleeve. "Taking live recordings and turning them into samples, taking samples and arranging them as if they were live. I think this record seriously blurs the lines. One of the most live sounding tracks is the most digital cut-up one! The end result is hopefully as organic in feel as a good dub record. Important to me was that, never mind how much studio-tricknology was applied, behind every track is a song.


"Liberty should be not just a word seems more than just a lyric to the third track ("Everything ). It's more like a great summation of the adventurous spirit of Berlin Serengeti.


New York City, USA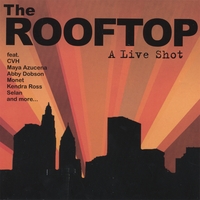 The Rooftop
A Live Shot
Rooftop Music
2006
A musical message of hope sent from a city built on an island to a city stranded in water, A Live Shot documents a New York City performance by rising East Coast neo-soul stars, a benefit concert for New Orleans musicians recovering from Hurricane Katrina.


Guitarist Christian Ver Halen wrote or co-wrote all the music and leads the house band behind a series of rotating lead vocalists, mostly female, and in front of a series of grooves that build upon the funky foundation constructed by UK soul hipsters The Brand New Heavies with singer N'dea Davenport. Drummer Gintus Janusonis and bassist Lonnie Plaxico helpfully shape and steer the loping instrumentation. Plaxico fits this scene nicely in the pocket, but the most evident characteristic of the music is its spirit: "What can we do to help these folks? Let's put on a show!


"Warriors rampages and spotlights Maya Azucena, who rips through the third verse with hot freestyle as the band often leaves the last three beats empty in the measures of four so that her voice swings dangerously free. Azucena also reverently dons the closing rearrangement of Leonard Cohen's "Hallelujah that forms an elegant, respectful elegy, their soulful recessional.


Plaxico most convincingly thumps "Wasteland with a reggae bottom that rocks deep and hard and tosses about Abby Dobson's voice rough and blue and deep, like troubled churning waters. Ver Halen works out a rare solo in "I Got You, electric jazz-rock fusion guitar both tasty and smart.


It all comes together most effectively in the spiritually charged "Set You Free, built upon the rock of Janusonis' and Plaxico's drum/bass pop and Ver Halen's guitar drone. Azucena's voice is filled with promise and angels, her words no small source of comfort, a message from the mover to the moved: "I am the rock/ That you build upon/ I am 'I Am'/ And you are my son/ And I'll set you free/ Just look to me...


One hundred percent of A Live Shot's sale benefit the Music Rising Foundation, part of the Grammy's Musicares program. You can learn more about A Live Shot at www.musicrising.org.
---
FOR THE LOVE OF JAZZ
All About Jazz has been a pillar of jazz since 1995, championing it as an art form and, more importantly, supporting the musicians who create it. Our enduring commitment has made "AAJ" one of the most culturally important websites of its kind, read by hundreds of thousands of fans, musicians and industry figures every month.
WE NEED YOUR HELP
To expand our coverage even further and develop new means to foster jazz discovery and connectivity we need your help. You can become a sustaining member for a modest $20 and in return, we'll immediately hide those pesky ads plus provide access to
future articles
for a full year. This winning combination will vastly improve your AAJ experience and allow us to vigorously build on the pioneering work we first started in 1995. So enjoy an ad-free AAJ experience and help us remain a positive beacon for jazz by
making a donation today
.
Post a comment