Marco Eneidi/William Parker/Donald Robinson: Cherry Box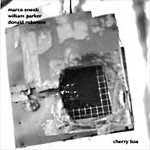 Listening to the 1998 recording
Cherry Box
is akin to spending an hour in dedicated meditation. After the intensity of the primary experience fades away, one finds oneself awash in spiritual calm. The trio of Eneidi, Parker, and Robinson use their shared experience to their advantage, ensuring coherence and cohesion. But spirituality is their main stock in trade.
Cherry Box pays open tribute to the spiritual music of Coltrane's small groups. In both the unpretentious intensity of the saxophone improvisations and the emphatic cardiac throb of the bass, this disc projects melodic energy. To offer a recent point of comparison, Cherry Box bears notable similarity to the '93 FMP Gayle/Parker/Ali record Touchin on Trane, though it makes more ample use of space, color, and melodic restraint. Alto saxophonist Marco Eneidi states deliberately simple themes, then subjects them to spirited reinterpretation using the full timbral spectrum of his instrument (including overtones and rapid-fire note flurries, as well as more relaxed passages with a bluesy sound). Even during moments of peak density, Eneidi's improvisations remain grounded. Of course, the presence of bassist William Parker does a great deal to anchor Cherry Box. Parker offers an intuitive combination of ostinato pulse, urgent walking basslines, and melodic complement. As usual, he plays an essential role uniting the group. (Astute listeners will note Parker's similar role on Gayle's landmark '93 FMP record.)
One of the most exciting aspects of this group is the remarkably versatile drumming of Donald Robinson. Robinson, a longtime Spearman associate, covers the range from "color percussion" through swing accents. While he shuns the center stage, his presence often spurs the other players to a higher level. It's worth taking a moment now and then to focus on Robinson's playing in isolation. At times he might play offbeat accents or shape his delivery around the other two players' statements, but he also devotes much of his effort to building multilayer polyrhythmic textures. This level of detail helps make Cherry Box a resounding success. I for one have not heard a stronger record from out of the post-Coltrane continuum in a long time.
Track Listing
Cherry Box; Slashing the Bird; Forget It; Barbequed Brahms; One More Thing; Spank.
Personnel
Marco Eneidi: alto saxophone; William Parker: bass; Donald Robinson: drums.
Album information
Title: Cherry Box | Year Released: 2001 | Record Label: Eremite Records
Post a comment about this album