Dan DeChellis: Chamber Music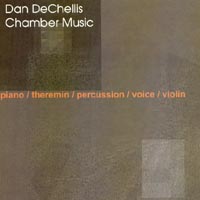 Free jazz (and I mean the
really
free stuff) can approach pure improvisation. But the more abstract it gets, the more it can also approximate noise. The same can also be said for a lot of the "modern classical" that took off after John Cage. So sometimes it's hard to say exactly what's going on in this kind of music (take Derek Bailey as an occasional example).
Chamber Music
, officially composed by Dan DeChellis but highly improvisational in its approach, leaves me wondering if I missed something. For the most part, I am unable to extract any kind of coherence out of this record.
DeChellis's quintet plays freely, deliberately, and quite staccato—which means that except for the occasional stretched-out vocals or violin, Chamber Music can be punchy territory. And that might make you wonder if the playing perhaps fits into a grander rhythmic design. But it really doesn't (at least to this listener's ears). But don't mind me—check this disc out if you're curious about one of the more extreme examples of "out" "chamber" music.
"How random is random?" asks Genesis P-Orridge (in the liner notes to a William S. Burroughs record).
(As a footnote to this discussion, the sound quality on Chamber Music is decent, but the dynamic range is dangerously huge—so handle this disc with caution, lest you blast your brains out.)

Track Listing: #1. Life on a Square; #2. Deliberate Steps; #3. Conversation Quench.
Personnel: Dan DeChellis, piano; James Coleman, theremin; Anita DeChellis, voice; Katt Hernandez, violin; Gary Fieldman, percussion.
---