The Honest-to-Goodness Real-Life Blues
So you groan through Thanksgiving and trudge through Christmas and endure another New Year's Eve and even force a smile through Valentine's Day...and now...
...and now, what? What?
You've still got more than nine months left in your "new" year, buddy. That's what.
And when that realization crunches you under its weight, the burden of one more year spent slogging through hundreds of mornings and evenings, each interminably and excruciatingly identical to the last one and to the next one, you scream and you wake up and then you've got 'em: The Honest-to-Goodness Real-Life Blues.
But have faith, brothers and sisters: The blues giveth pain AND the blues can taketh your pain away. Just listen to the call of the blues.
Count Basie & His Orchestra
Good Time Blues
Pablo
2004 (1970)
Recorded in Budapest, this previously unissued 1970 performance proves that nobody could make feeling the blues swing good and hard like Count Basie. Especially when fronting a typically first-rate orchestra, in this case featuring Eddie "Lockjaw Davis on tenor sax, returning son Harry "Sweets Edison (who first played with Basie in the late 1930s) on trumpet, and guitarist Freddie (no nickname given) Green.


This encyclopedic set runs as wide and broad and deep as a river, featuring arrangements by Davis ("Light and Lovely ), Benny Carter ("Sunset Glow ), Quincy Jones ("I Needs to Be Bee'd With ), Neal Hefti ("Cute ), and Sammy Nestico ("Magic Flea ), plus such pop and jazz classics as "A Night in Tunisia, "Summertime and "Frankie and Johnnie.


The orchestra begins by "Hittin' Twelve, a colorful arrangement rocked with boogie-woogie from bassist Norman Keenan which leaves drummer Harold Jones free to go off like a one-man bomb squad. The drummer's turns in "Frankie and Johnnie and furiously paced "Summertime combine propulsive washes and rolls punctuated by explosive bass drum and splash cymbal bombs. Jones thumps and coaxes from his kit an exotic backdrop to the bebop classic "Tunisia, a tonal painting vibrant with the colors and rhythms of both bebop and orchestral swing.


Good Time Blues reserves an almost uncharacteristic amount of musical space for the good Count. The title track, for example, opens with just a piano trio in which the principal truly shines up his blues and boogies. Basie also stretches throughout the nine-minute "I Needs To Be Bee'd With, softly jabbing single notes and strumming chords in a flowing blues rocked gently in the cradle by Green's nearly funky rhythm guitar, topped like a cherry with "Sweets ' exquisite blue moan of a trumpet solo. When the arrangement opens up the smaller quintet into the large ensemble, swaying horns swing this baby home.


All heck breaks loose as the full ensemble tears straight from "One O'Clock Jump into "Jumpin' at the Woodside to bring down the curtain. With Basie astride his piano rocking horse, riding roughshod on a stomping, swinging big band, it seems almost impossible to resist saddling up to gallop along for the ride.


Michael Bloomfield
If You Love These Blues, Play 'Em As You Please
Kicking Mule
2004 (1976)
This compilation is a blues purists' dream, packaging If You Love These Blues, Play 'Em As You Please (1976), guitarist Bloomfield's personal tour through the history of acoustic and electric guitar blues, together with Bloomfield / Harris, his 1979 instrumental overview of acoustic country-gospel blues jointly conducted with guitarist Woody Harris.


Bloomfield was the American leader in the same first wave of guitarists in which Eric Clapton and Peter Green discovered their blues-rock voices in Europe. Best-known for his work with Bob Dylan (on the Highway 61 Revisited recording, and in the electric band with whom Dylan notoriously debuted at the 1965 Newport Folk Festival) and various Paul Butterfield blues bands, Bloomfield proved adept with his guitar but less skilled with the pressures of "rock stardom, and died of a drug overdose in 1981.


Even Bloomfield's liner notes, personal annotations of each selection, sparkle with greatness! He notes, from If You Love, for example, that: "'City Girl' is a direct tribute to T-Bone Walker, who, to me, is the guy who popularized the idea of modern electric blues guitar and vocal against the background of a horn section. These If You Love notes supplement his own spoken, recorded narratives to each piece, such as this intro to "WDIA : "WDIA is a shuffle in the key of B flat using a Stratocaster with a twin reverb amp. It's in the style of B. B. King from his Kent Records period, approximately 1961.


Bloomfield proves adept at so many different sounds and styles, such as the solo guitar rag(time) "Thrift Shop Rag and the Jimmie Rodgers-style dustbowl blues "Hey, Foreman. "City Girl sashays as cool and blue as an after-hours club hidden in a dark corner of the city, while "Death in My Family, dedicated by Bloomfield to Eddie "Guitar Slim Jones, swings like the soul-rock-R&B hybrid that typified Jones' best work for Specialty Records.


"WDIA pounds out a reeling and a-rocking blues from your basic guitar/piano hard rock quartet. "Mama Lion is screaming electric Windy City blues featuring composer and originator Nick Gravenites (co-founder of Electric Flag with Bloomfield) on second guitar — generating the heat, as Bloomfield notes, of Earl Hooker shot through with John Lee Hooker.


Almost more amazing than his guitar dexterity is the way that Bloomfield shades his vocals to approximate his source material: Almost comic yodelin' blues in "Hey, Foreman ; laconic and cool in "City Girl ; his moan from the "Death Cell Rounder Blues, a mournful, country piano-blues duet; and as sad and lonesome as Mississippi John Hurt in Lonnie Johnson's "Blue Ghost Blues


Featuring classic spirituals, Bloomfield / Harris unfolds as softly and reverently and brilliantly as a sunny Easter Sunday morning, opening with "I'll Overcome ("We Shall Overcome ), contemplating "Just a Closer Walk With Thee, and bringing it home through "Peace in the Valley. Bloomfield's reverent yet toe-tapping approach to "Just a Closer Walk sounds unique (as his notes explain, "A million people have done this tune, but I first heard it done by Kid Ory in a Dixieland jazz style ), and few if any guitarists could make the slide guitar moan and cry like Bloomfield does in "Gonna Need Someone On My Bond.


Corky Siegel
Corky Siegel's Traveling Chamber Blues Show!
Alligator
2005
Harmonicat Siegel is a four-decade veteran of the Chicago blues scene and co-leads the Siegel-Schwall Blues Band with guitarist Jim Schwall. Siegel held a long residency during the storied heyday of Pepper's Lounge in Chicago—ripping up and tearing down the blues with Muddy Waters, Howlin' Wolf, Willie Dixon and other legends—during which he was befriended by admirer Seiji Ozawa, conductor of the Chicago Symphony Orchestra. In 1968, Siegel-Schwall became the first blues band to play with a symphony orchestra by performing with Ozawa and the CSO.


In the early 1980s, Siegel founded Chamber Blues, casting his harmonica and piano among a string quartet and percussionist. "I envisioned an emotional classical blues blend with the sweet wooden sound and intimacy of a string quartet, he recalls, "and that's how Chamber Blues was born.


This new live recording showcases Siegel's harmonica and vocals with a string quartet and percussionist plus two additional violinists and guest bassist/vocalist Rollo Radford. Hearing the chamber-blues genre, new and different, creep softly into life between your ears can sound odd. Violin, cello, and harmonica all make familiar sounds, but in this different sort of combination—chamber music and blues music playing together—the familiar sounds different.


Some passages of "Serenade, for example, are dominated by strings and sound like chamber music, but in other movements the strings pluck out what on a different instrument and in a different context would be a jaunty rhythm guitar hook behind Siegel's lead harmonica moans. "Manhattan Island sounds like more of a lament backed by howlin' harmonica than a blues—but what's the difference, really?


The Woofy Girl Stroll builds sort of a line dance from the piano up, as the left hand rocks the "up and down galloping piano chords that one almost automatically associates with movies about "The Old West, while the right hand spins yard upon yard of boogie-woogie blues. Radford plays and sings his own composition "Train, depicting the darkly hilarious monologue of a captured Old West train robber railing against spending time in prison: "I hate to miss the Christmas rush this year, but I will see you in the spring...


Though it can sound archaic at times, Siegel's harmonica wails enough hard and long enough to blow off any dust. You will find a companion document to this CD—with stories, photos and recording details—here.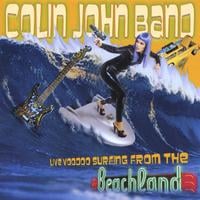 Colin John Band
Live Voodoo Surfing from the Beachland
WMF Records
2004
Guitarist, songwriter, and singer Colin John takes his music way beyond "traditional blues. "It's sort of a stigma that all blues sounds the same, he says, so he tries to ignite a musical fire that burns differently from the straight blues flame. "I would call it contemporary blues, rock, and soul, he says, or, "non-traditional, traditional blues.


John mainly sounds like the sum of his influences. Formative gigs include his stint in the Saturday night house band at B. B. King's Blues Club on Beale Street in Memphis, where John worked with drummer Howard Grimes and rhythm guitarist Mabon "Teenie Hodges, members of the house band for Hi Records, where Al Green cut his 1970s soul classics. John then moved to London and formed his first CJB, which included onetime Eric Clapton drummer Henry Spinetti, in 1992. John is also a noteworthy gearhead who has enjoyed a longstanding technical relationship with Roger Mayer, the British guitar effects designer who invented the Octavia for Jimi Hendrix and similar guitar devices for Clapton, Jeff Beck, Jimmy Page, David Gilmour, and Carlos Santana.


Recorded live in John's Cleveland (Ohio) hometown with bassist Steve Calabria and drummer Scott Turner, Surfin' burns with the hot sound of ass-whuppin' electric Texas blues. It begins right from the opener, which asks "Are You Ready for the Blues? The rhythm team does what they're there to do — lay down the time and the chords, churn up the beat, and let John flash his vocal and guitar chops, which in this case sound very much like Clapton.


"For Your Pleasure smashes out frantic blues rock that made me think of Ted Nugent's Free For All but with Robin Trower featured on psychedelic lead guitar, and the stormy "Shake 'Em On Down seems to honor Led Zeppelin's "In My Time of Dying and "The Lemon Song.


"Beer Drinking Woman, the closest thing here to a traditional (twelve-bar) blues, serves as centerpiece of the set; as the rhythm section stretches elastic instrumental passages then snaps them back with crashing chord crescendos, John's guitar and vocal, both creased with too much barroom smoke and whiskey, smolder from his soul into yours like a classic Little Milton blues.


This fire burns down to its embers with the set-closing Hendrix tribute, "Voodoo Chile (Slight Return) (also a SRV favorite). Somehow, "this sounds like Hendrix just does not seem descriptive or powerful enough... yet few other words seem worthy of this squalling tornado that spills over with fury, feedback, and funk.


Norman Brown
West Coast Coolin'
Warner Bros.
2004
Brown plays rhythm & blues that's more rhythm than blues and more truthfully jazz-pop more than anything else.


Guitarist Brown's previous album, Just Chillin', was largely produced by James Poyser and Viktor Dupliax—hit-makers for Erykah Badu, D'Angelo, Jill Scott, and Macy Gray—and claimed the 2002 Grammy® for Best Pop Instrumental recording. The pair returns to helm Coolin'. But while Chillin' featured a stellar galaxy of guest vocalists (Miki Howard, Chante Moore, Michael McDonald), Brown jumps on the Coolin' vocals himself. "I wanted to go further into some of the great Soul and R&B sounds that have been such a tremendous influence on me, he allows.


Can you tell something of a musician from the company he keeps? If so, note that studio legend Jerry Hey (who's been around for so long he might have constructed arrangements for archangel Gabriel's trumpet) arranged the occasional horns and plays flugelhorn, that ultra-smooth Eric Benet frequently served as co-composer, and that the centerpiece of this set is Brown's satiny smooth cover of Marvin Gaye's soul classic, "What's Going On.


There's not a lot of "jazz here but plenty of pleasant music. Among the tracks with vocals, which Brown delivers with admirable soul and tenderness, "Come Over sounds the most seductively luscious, with the opening dove's song "I Might a cooing second.


Instrumentalist Brown takes his turns, too, saying to his jazz guitar "Let's Play on that song, "Up N At 'Em, on "Right Now and on "Missin' You, which honors the sound and feel of an earlier unexpected hit pop record by a jazz guitarist, "Is It You? by Lee Ritenour. The closer, "Remember the Time, is not a cover of the Michael Jackson hit (an easy assumption in this context) but, as Brown's fingers fly up and down the frets like a world-class masseuse, one of his tastiest instrumentals.


In other words, smooth jazz radio should be all over this release, which, oddly, is almost enough to make one think of George Benson as a jazz guitarist again.
---