Results for "Yve Evans"
Instrument: Piano
Article Coverage
|
Calendar
|
Albums
|
Photos
|
Similar Artists
Results for pages tagged "Yve Evans"...
Musician
Born:
YVE EVANS - Singer - Pianist - Entertainer Songwriter - Actor - Producer ALL ABOUT YVE* At age three singing before a congregation of 1500 people on Easter Sunday, Yve Evans had no idea that performance was her destiny. However, the little girl grew up to be an outstanding Singer and Pianist. There is an intangible quality in her music that gives it a life of its own; life that reaches out and touches the souls of the people that hear it. Yve has performed all around the world...Japan, Canada, Spain and Italy are a few places that come to mind. Evans has played with some of the greats in jazz and cut five CD's
Album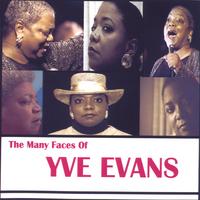 By Yve Evans
Label: Note-worthy
Released: 2004
Article: Album Review
by AAJ Staff

A warm, R&B-influenced jazz singer/pianist with an impressive range and a great sense of humor, the L.A.-based Yve Evans hasn't yet gotten the commercial break she deserves but continues to put out highly enjoyable CDs. Gospel and the Afro American church experience has clearly had a strong impact on her musically, and she celebrates that inspiration ...