Results for "Wayne Powers"
Instrument: Voice / vocals
Article Coverage
|
Calendar
|
Albums
|
Photos
|
Similar Artists
Results for pages tagged "Wayne Powers"...
Musician
From jazz vocalist/bandleader to actor/comedian/radio talk show host, it's easy to see why Wayne Powers is often referred to as a "renaissance man". Wayne started out as a "boy singer" in New York nightclubs at age 16. "I wasn't very good," he freely admits, "but you've gotta start someplace – and I grew up with this music inside me – in my heart and soul – and treasure it enough to gladly do whatever it takes for me to live inside the music. You see, when I was growing up we couldn't afford a piano (and we had no room for one, anyway). so I just learned to play the human voice." Persistence paid off as Powers eventually studied in New York with renowned vocal coach of the day, Fred Steele, mentor to Steve Lawrence & Eydie Gorme, Eddie Fisher and widely credited with helping restore Tony Bennett's voice
Album
By Wayne Powers
Label: Kabockie Records
Released: 2018
Track listing: Never Let Me Go, You've Changed, All of Me, Body and Soul, When Your Lover Has Gone, Willow Weep for Me, You Don't Know What Love Is, If Love Were All, Just In Time, East of the Sun (West of the Moon), I Only Have Eyes for You, Time After Time, Smile
Article: Radio & Podcasts
by Mary Foster Conklin

In this episode we celebrate some heavyweight jazz birthdays --Dinah Washington, Teri Thornton and Alice Coltrane, to name a few. Plus a bumper crop of new releases as summer winds down. Playlist The Diva Jazz Orchestra "The Rhythm Changes" from The Diva Jazz Orchestra: 25th Anniversary Project (ArtistShare) 00:00 Madeleine Peyroux "On a ...
Article: Radio & Podcasts
by Mary Foster Conklin

Many special birthdays in this episode of A Broad Spectrum as we honor the great Abbey Lincoln and remember Bernice Petkere, named the "Queen of Tin Pan Alley" by Irving Berlin for her songs "Close Your Eyes" and ""Lullaby of the Leaves." Playlist Linda Dachtyl "A Late One" from A Late One (Chicken ...
Article: Bailey's Bundles
by C. Michael Bailey

My unscientific estimate contends that there are three female vocalists for every male vocalist. This does not mean that there are no male vocalists out there as evidenced by these ten examples. They just take a little longer to accumulate. Jay Leonhart and Tomoko Ohno Don't You Wish Chancellor Music
Album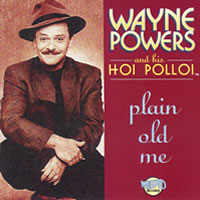 By Wayne Powers
Label: Warped Records
Released: 1993