Results for "Triangulum"
Label: Clean Feed Records
Released: 2017
Track listing: 1. Rhododendron; 2. Triangulum; 3. Ringdown; 4. Reminiscing; 5. Witch Hazel; 6. Solstice 63; 7. Strange; 8. Inflection Point.
2017 is proving to be something of a breakout year for alto saxophonist Nick Mazzarella. He recently released Signaling, a superb freely-improvised duo recording with cellist Tomeka Reid, and now he's followed it up with this excellent outing from the Meridian Trio, where he is joined by his colleagues Matt Ulery on bass and Jeremy Cunningham ...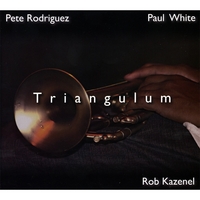 Label: Self Produced
Released: 2007