Results for "Shigeki Kawahara"
Musician
Born:
Japanese Smooth Jazz artist Shigeki Kawahara, you could say, is an internet success story that continues to be told. A very accomplished keyboardist/pianist, he began recording music in 1995 and released his first CD (and to date only full album) "Another World" in 2005. He had been doing music on the side while his day job as an economist takes him around the world. The convenience of the internet however, allowed him to release his music via the world wide web, catching the attention of FM DJs abroad. The album was an online success leading Shigeki to form the jazz trio TIG (Three In the Groove) with Toru Ishiwata (guitar) and Hiroki Ide (drums)
News: Radio
Jazz music program "Jazz Devine" (every Sunday 8PM-10PM USA/EST) plans to feature music of Shigeki Kawhara. The date and time of the 1 hour program fully featuring Shigeki Kawahara with interview will be anounced later. Airing four songs this week: The Streamliner; Snap Out of It; Night Flight; and Jam of Q. Want to give listeners ...
Album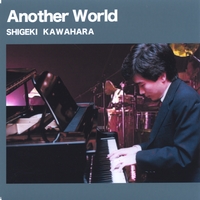 Label: Unknown label
Released: 2005