Results for "Evan Stone"
Instrument: Drums
Article Coverage
|
Calendar
|
Album Discography
|
Photo Gallery
|
Similar Artists
Results for pages tagged "Evan Stone"...
Musician
Born:
The Orange County-based music performance ensemble of Evan Stone and the Translucent Ham Sandwich Band is a kaleidoscope of creativity. About the only art form not incorporated into its broad experiment is painting though its surreal sounds bring the famed Salvador Dali's "I don't do drugs, I am drugs," quote to mind. Dancers, magicians, jugglers and other purveyors of entertainment get in on the act during live shows. But when the Translucent Ham Sandwich Band decided to assemble its debut album Music From the Future, those elements couldn't be captured on record. That doesn't mean the resulting effort is any less captivating or innovative.Organized into Side 1 and Side 2, Music From the Future has 10 identifiable tracks—or perhaps the whole undertaking is one long form song? Audio collages serve as transitions as the Translucent Ham Sandwich crew serves up that nasty jam band funk with biting bass lines even cholos can dip to
Album
By Evan Stone
Label: Bigger Bang
Released: 2015
News: Recording
Evan Stone and the Translucent Ham Sandwich Band (an award winning improvisational avant-garde psychedelic jam band) will release its debut album, Music From The Future on Vinyl LP and digital download only on February 26th, 2015. The album release will coincide with the performance that same evening as Evan Stone and THSB take the stage at ...
News: Performance / Tour
Vocalist Danny Freyer performs on May 15th at Upstairs at Vitellos in Studio City, CA, where fans of jazz vocals have the chance to discover this new voice as he celebrates his debut jazz album, Must Be Love. "Jazz Singer Danny Freyer is a new voice that must be heard." —Willard Manus. Described as having a ...
Album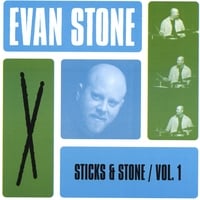 By Evan Stone
Label: Red Jazz
Released: 2006