Results for "Emmanuel Bizeau"
Emmanuel Bizeau: A native of France, Paris, began to play percussions from 17 years old. Being aspired Afro-Cuban music, totally 3 years during 1991 to 1996, went to Cuba and had studied under Miguel Valdez Aballi(Emiliano Salvador), Conrado "Coqui" Garcia(E. Salvador), Jose Luis "Changuito" Quintana, Roberto "Guayacan" Hernandez (Los Van Van), Tomas"Panga "Ramos (Cubanismo), Alberto Villareal (Conjunto Folclorico Nacional de Cuba) and Roger Fixy (Iluyenkori). On 1994, he joined French latin jazz group Zumbao and Venezuelan group Madera and travelled to France and Venezuela, it called Zumbadera including a famous singer Orlando "Watusi" Castillo
New York-based pianist Chiemi Nakai is a native of Japan who began her musical journey in training as a classical pianist but preferred the sounds of Afro-Cuban and other Latin music. Moving to the Big Apple in 1998, Nakai began her professional career performing and touring with international Latin music stars, formed her own group, Chiemi ...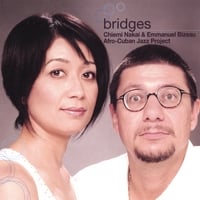 Label: Indies Records
Released: 2008