Results for "Denise Brigham"
Instrument: Voice / vocals
Article Coverage
|
Calendar
|
Album Discography
|
Photo Gallery
|
Similar Artists
Results for pages tagged "Denise Brigham"...
Musician
Wherever she performs she brings down the house! The most often heard expression is "how does such a big voice come out of such a tiny person?" Indeed her 5'3" stature hides a voice that rivals the best in professional entertainment anywhere, and her new album HOTEL LAFAYETTE is proof of that. Backed by a 70 piece all professional orchestra Denise makes full use of her wide vocal range and unique styling to light up the electrifying new arrangements written and produced by Carey Deadman. Denise studied under Chicago's top voice coach Randy Buescher and has performed with area big bands and orchestras
Album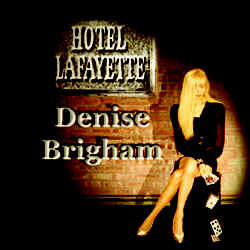 Label: Self Produced
Released: 2009
News: Event
Denise Brigham officially released her new standards album Hotel Lafayette on Monday, April 27th. It features eleven classic songs all done with sparkling modern arrangements by Carey Deadman. It was recorded in Chicago with a 70 piece all professional orchestra and mixed and mastered by Chris Steinmetz at the multimillion-dollar Chicago Recording Company. The songs range ...
News: Recording
The recording portion of Denise Brigham's new album is almost complete. She has been at Chicago Recording Company with her producer and arranger Carey Deadman for the last two weeks finishing her vocals and they should be completed by the end of the second week in January. The band and orchestra sessions were finished before Christmas ...