Results for "Dan Freedman"
Instrument: Piano
Article Coverage
|
Calendar
|
Albums
|
Photos
|
Similar Artists
Results for pages tagged "Dan Freedman"...
Musician
Born:
Its unusual to find a pianist who captivates with high-energy improvised fusion lines, and moments later seduces with evocative classic jazz ballad melodies. Dan Freedman's heritage and character makes him that pianist, and his passion to innovate puts him at the edge of performance artistry. Strongly influenced by Oscar Peterson, Chick Corea, and Bill Evans, Dan always inserts his own unique sound and style to match the needs of each performance. Always seeing music as an interactive art form that connects player and listener, Dan is very well tuned into the needs of his audience, never taking them too far away from a well-loved melody, yet always offering them something fresh and unusual to focus on
Article: Interview
by Ludovico Granvassu

If one were to find an answer to the age-old "nature or nurture" debate, s/he would have to look no further than The Painted Lady Suite [Sunnyside Records]. Listening to the stunning debut album by the Michael Leonhart Orchestra makes it clear that major achievements are only possible when nature and nurture are well integrated and ...
Album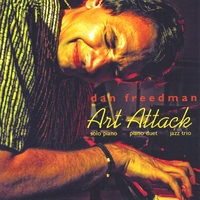 By Dan Freedman
Label: Four Hearts Music
Released: 0