Results for "Best of B-3 Organic Grooves"
Album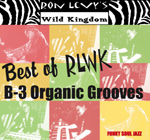 By Ron Levy
Label: Levtronic
Released: 2004
Track listing: 1) Sons Of Abe; 2) Blues For BB; 3) El Fuego de Lowell [Pt. 2]; 4) SPANK!; 5) Best Cookies; 6) The Wes Side; 7) Some Sorta Blue; 8) Levtronic Blues; 9) Funky Monkey Boogaloo; 10) Soulard Soul Stew; 11) Yo Bro' Yossel; 12) Spangled Star Boogaloo
Article: Album Review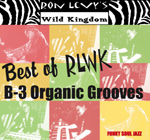 by Mark Sabbatini

Here's a tip: When offering newbies something pretty good, don't mess things up by highlighting what they're missing. To a newcomer to longtime organist Ron Levy, his Wild Kingdom's Best Of B-3 Organic Grooves comes across as a quality collection of funk/blues from four previous releases. But I found this part of its promotional text at ...