David "Fathead" Newman: Song for the New Man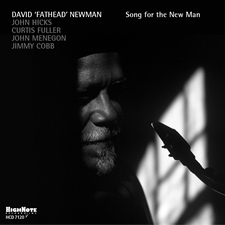 Although his playing has taken on a more refined sheen over the years, David "Fathead" Newman remains firmly rooted in the blues and R&B he was raised on in Texas, and which he honed during stints with T-Bone Walker, Lowell Fulson and, most notably, Ray Charles.
At 71, Newman's now one of the last remaining heirs to the tough Texas tenor tradition of Herschel Evans, Buddy Tate, Illinois Jacquet and Arnett Cobb. But his latest effort shows that while he's mellowed a bit as he's aged, he hasn't lost a step. It's the combination of bluesy grit and post bop polish that gives Newman's tenor sax playing its special allure, and both are on display on
Song for the New Man.
Check his brawny, high-octane romps through Charlie Parker's "Visa" and Hank Mobley's "This I Dig of You", next to his velvety, romantic renderings of the ballad chestnuts "Time After Time" and "When I Fall in Love." Most moving is "Passing Through," a heartfelt tribute to flautist Herbie Mann, a longtime colleague of Newman's who passed away last year.
With some sterling partners on hand—how about Jimmy Cobb on drums, Curtis Fuller on trombone and John Hicks on piano!—"Fathead" proves he can still deliver the goods.
This review originally appeared in
AllAboutJazz-New York
.

Track Listing: 1. Visa (Parker) - 3:57 2. Time After Time (Cahn/Styne) - 5:00 3. Shakabu (Mitchell) - 4:10 4. Song for the New Man (Rebillot) - 5:37 5. Passing Through (Mann) - 9:05 6. Fast Lane (Newman) - 4:16 7. Lonesome Head (Newman) - 4:36 8. When I Fall in Love (Heyman/Young) - 11:29 9. This I Dig of You (Mobley) - 6:01
Personnel: Curtis Fuller - Trombone; John Hicks - Piano; Jimmy Cobb - Drums; David "Fathead" Newman - Flute, Tenor Sax; John Menegon - Bass.
---