Louis Mhlanga: Shamwari
By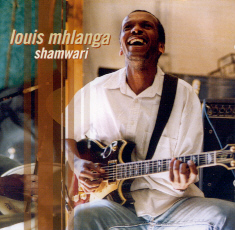 While jazz purists might snub guitarist Louis Mhlanga's efforts on
Shamwari
as simple Afro-pop, this music rises above the elemental revolving harmonies of that genre. Mhlanga's guitar work combines a strong sense of form with occasional detours into open improvisational territory. His core sextet includes three percussionists, which may give you some idea of the rhythmic depth assembled to support Mhlanga's often rhythmically sophisticated work on top. (The recording unfortunately does not always do these players justice, but they do make their mark.) Flavors of South African and Zimbabwean spirit drift in and out, especially on the three tracks with vocals. A strong sense of simple African melodicism in Mhlanga's playing often gives way to heavily jazz-inflected virtuosity.
Mhlanga's music on Shamwari echoes a sense of joy and blissful relaxation. When the other players get a chance to solo (as on "Afrika Ya Uya," where bassist Denny Lalouette steps forward), they respect and extend an uplifting spirit. Most of the time, though, Mhlanga keeps his guitar work at the forefront. Occasionally indulgent in the tired cliches of fusion and contemporary jazz, the guitarist does not follow a pure path. But his efforts to bring together the spirit of improvisation with strongly textured structure draw upon a variety of influences. Light funk, Latin rhythms, and African patterning pervade Shamwari, punctuating the otherwise smooth fabric Mhlanga lays down on top. A fine effort from a player whose promiscuous involvement in theater and movie music, along with widespread production efforts, have earned him notoriety seeping outside the African continent.


Visit Sheer Sound on the web.
Track Listing
Hona Ka; Beira; Afrika Ya Uya; What Happened to Love?; Distant Lover; Chifamba; Kugarisana Nevamwe Zvakanaka; Shamwari; Take Me; Dzembira.
Personnel
Louis Mhlanga: guitars, vocals; Andile Yenana: piano, keyboards; Denny Lalouette: electric bass; Basi Mahlasela: percussion; Elhadgi Diop: percussion; Sello Montwedi: drums; Herbie Tsoaeli: electric bass (7,10); Rob Watson: drums (1,4); Nomsa Magwaza: vocals (3,6,7); Sipho Nkosiyani: vocals (3,6,7).
Album information
Title: Shamwari | Year Released: 2001 | Record Label: Sheer Sound
Post a comment about this album