Saskia Laroo: A New Jazz Goddess
By
For forty minutes, the crowd seemed transported to another galaxy, the world outside had come to a standstill, so mystical and magical is the effect of Saskia?s musicianship.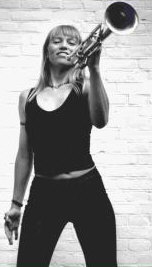 In the recently set tradition of unfurling new, amazingly original jazz talent, dear readers, I throw open the wraps right off a truly prodigious talent... Saskia Laroo, of the Netherlands. In the brief spell of a few years, this astonishingly talented trumpeter has scaled more heights than a professional mountaineer could ever dream of! She has played the trumpet, which to my mind is rather an unladylike instrument and hence all the more difficult to tackle, with a virtuosity and authoritative command that leaves the knowledgeable jazz freak gasping, and groping for words. She's out-a-sight, man! A cool cat if there ever was one.
Listen to her CD
Jazzkia
in which she has grappled with an ambitious project, to sound like Miles Davis—who to many diehard fans like me, signifies the ultimate in originality, inventiveness and profundity. She not only sounds like Miles on her first composition entitled "Spin" but, close your eyes and imagine him bent over, eyes closed whole body and soul focused on the theme he's portraying and nothing else.
If Miles Dewey Davis were alive, and were he to play this composition, it would perhaps been very nearly the same. The touch of genius in using the right phrasing, the right tones coaxed ever so lovingly out of a muted trumpet, that indefinable 'impatience' with which he used to assault every tune, as much in a hurry as a lover stealing a kiss under highly unfavorable circumstance—why, everything that lent luster to Miles Davis and his totally unforgettable style of trumpeting, is there in Saskia. What knocks one's eyes (and brains) out is the fact that she isn't half as deadly looking as he used to be: she's a delicate blonde, with her cuteness quotient vying shoulder-to-shoulder with, if one could imagine, a more diminutive Barbie Doll.
The press kit tells us that Saskia was named De Jordaan [the garden] but she later changed her name to the sexily brief appendage we use now: she was always interested passionately in music, and learnt more than twenty one different instruments before settling finally for the trumpet, an unusual choice for a young lady musician by any means, or stretch or imagination. Also, she started learning the trumpet at the tender age of seven.
The facile ease that Saskia demonstrates in wielding the clumsy horn, makes every listener feel deceptively that it must be an easy instrument. One gets tempted to see her DVD to be able to finally relate to her being a real flesh-and-blood trumpeter [she wrote to me that the DVD should be ready in a few months, the delay probably exemplifies her meticulousness, the great attention to all the minute details, after all she has her own record label to run... and a perfectionist at the helm of affairs is always a welcome attribute for any company.]
Jazzkia
as a collection of a wide variety of tunes, from the intellectually charged numbers penned by Saskia to the well-established classics of the bebop era, cool period and the modern jazz movements of 1950s and '60s, offers immense gratification. Having presented selections from this album and another masterpiece called "Sunset Eyes 2000" to some 50 diehard jazz fans at our Pune Jazz Club last Sunday, it was touching to see the magical effect—the heads nodding, feet tapping and a soft drone of highly approving babble rising as each number neared its predesignated climax. For forty minutes, the crowd seemed transported to another galaxy, the world outside had come to a standstill, so mystical and magical is the effect of Saskia's musicianship.
Saskia and her manager Ausra inform me that a tour to India is possible in November, and this bit of news has set many a hearts a flutter, in a tightly gripping fever of anticipation. Her selection of sidekicks seems like a gifted virtue practised with proficiency, too. One of her most devoted sidemen is Teddy Edwards, whom many jazz critics have described as one of the most influential saxophonists that ever walked this earth... his contribution to the post bop era, especially the rise of funk and later diversions and forays into similar genres, is beyond comparison and invaluable in terms of worth. The liner notes for the Jazzkia are penned by Edwards and he speaks in glowing terms about Saskia and her music. Many jazz fans rue the fact that he gets no mention in the magnum opus of Ken Burns. Well, choice of music and musicians is a highly personal matter, I guess.

Another wonderful coup d'?tat she has accomplished is to have as a guest artiste, the venerable Mr. Ernie Andrews, a blues singer with the voice of John Lee Hooker [many friends tell me he sounds like Lou Rawls, with that grainy character giving his voice a rasping quality tough into to cut through inches of steel!] Well, some jazz critics like Dr. Billy Taylor have rightly described Ernie Andrews as "The Best Kept Secret In Jazz today". Andrews moved in good company from the start because his schoolmates LA's Jefferson High School included Dexter Gordon, Charles Mingus, Sonny Criss, Teddy Edwards and Eric Dolphy. That's pretty cool company, by any means!

In the album Jazzkia, the immortal classic "Perdido" from the pens of Tizol, Lengsfelder and Drake well illustrates how well-knit the group of Saskia and her highly evolved musician friends can be... An amazingly well laid out virtual feast for the ears. Teddy Edwards tells us something interesting, the fact that some luminaries and peers of Saskia have expressed their respects to her—the list is impressive: Freddie Hubbard, Wynton Marsalis, Marcus Printup, Jon Faddis, Riley Mullins...

Critics have freely lavished her with an abundance of gooey compliments that jazz writers seem to be drooling at the mouth when describing her looks, her presence on the stage, and her enviable command over several diverse styles of playing jazz and other modern idioms. Saskia thus demands to be placed on a high pedestal, and all those reverent looks that cloud every face in every conceivable audience around the world, make mincemeat out of the niggling doubt about her being or not being a Jazz Goddess. Period.

Till next time then, Ciao—have fun and write to me.
Post a comment
---
FOR THE LOVE OF JAZZ
All About Jazz has been a pillar of jazz since 1995, championing it as an art form and, more importantly, supporting the musicians who create it. Our enduring commitment has made "AAJ" one of the most culturally important websites of its kind, read by hundreds of thousands of fans, musicians and industry figures every month.
WE NEED YOUR HELP
To expand our coverage even further and develop new means to foster jazz discovery and connectivity we need your help. You can become a sustaining member for a modest $20 and in return, we'll immediately hide those pesky ads plus provide access to
future articles
for a full year. This winning combination will vastly improve your AAJ experience and allow us to vigorously build on the pioneering work we first started in 1995. So enjoy an ad-free AAJ experience and help us remain a positive beacon for jazz by
making a donation today
.
Instrument: Trumpet
Article Coverage
|
Calendar
|
Albums
|
Photos
|
Similar Artists