Psychic Warrior: Psychic Warrior
BY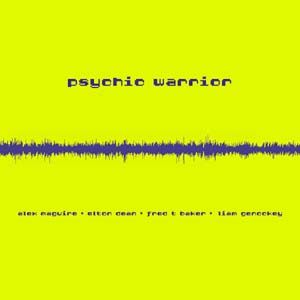 With a name like Psychic Warrior, one would expect some kind of metal or perhaps progressive rock group. But names can be deceiving;
Psychic Warrior
represents a collaboration by a group of British left-of-centre jazz players, including ex-Soft Machine saxophonist Elton Dean, In Cahoots bassist Fred T Baker and drummer Liam Genockey, who has worked with artists including saxophonist Trevor Watts, singer/songwriter Richard Thompson, and the traditional folk group Steeleye Span. But the group is ultimately the brainchild of organist/pianist Alex Maguire, who, having worked with everyone in the group in other contexts, put together Psychic Warrior as a means to explore the juncture between form and freedom.
The track list consists of five Maguire compositions and a Maguire/Dean collaboration. While free and extended improvisation is the order of the day, the album is not without intriguing structural constructs. "Hail Mary Pass," a mid-tempo jazz waltz, has a longer-form theme that is reminiscent of some of ex-National Health keyboardist Dave Stewart's writing but with more swing, providing Dean with arguably the most challenging harmonic context of the set.
Elsewhere the forms are sketchier. "Social Performers" revolves around a simple vamp with Genockey basing his rhythm on an almost military approach, ultimately losing its rigidity and lightening up for Baker's free bop solo. "The Burglary" recalls Ornette Coleman, with an introductory theme resolving into a solo section that, while featuring a primary soloist at all times, really has everyone in the pool, creating an ever-shifting backdrop. Baker's accompaniment is particularly vivid, bringing to mind Jaco Pastorius with its rapid-fire sixteenth-note pedal tones and funky double stops that seem surprisingly appropriate in this looser setting.
It is, in fact, Baker's playing that is the surprise of the set. Emerging as the anchor to guitarist Phil Miller's Canterbury-cum-fusion In Cahoots in the mid-'90s, and more recently a member of drummer Pip Pyle's group Bash, he has emerged as a singular voice on the British scene, with a style that combines a rich knowledge of bebop with a more fusiony stance, always giving the rest of whatever group he is in firm support and a purposeful solo approach. But Psychic Warrior demonstrates that he can tackle less confined environments, all the while providing a clear direction through the more liberated ensemble passages.
But as far-flung as the improvisations may get, they always have a rhythmical and/or harmonic basis. There may be only a simple theme to establish the footing for the 7/4 minor-keyed "Green Lanes," but it's enough to keep things focused and intentioned. Maguire takes huge liberties with whatever basic structure a tune provides. His accompaniment to Dean's outer-reaching yet lyrical playing always leads seamlessly to his own solos. Dean and Maguire, in fact, often solo in tandem, with Baker and Genockey left to maintain any semblance of form.
An auspicious debut that bodes well for the future, Psychic Warrior successfully straddles the fence between method and liberty, occasionally resting on either side but more often sitting firmly atop, aspiring to the best of both possible worlds.
Track Listing
The Burglary; Psychic Warrior; Green Lanes; Social Performers; Hail Mary Pass; Marina
Personnel
Alex Maguire: Hammond organ, Fender Rhodes electric piano; Elton Dean: alto saxophone, saxello; Fred T Baker: electric and acoustic bass guitars; Liam Genockey: drums, percussion.
Album information
Title: Psychic Warrior | Year Released: 2004 | Record Label: Hux Records
Post a comment about this album