Multiple Reviews
Pierre Favre on Intakt
By
One of the most important skills contributing to the longevity of an improvising musician's career is versatility. A look at several successful examples demonstrates a commitment to adaptability: Evan Parker, William Parker, Kenny Wheeler, Anthony Braxton. Two new albums by venerable Swiss drummer Pierre Favre, one an improvised duet and the other a carefully sculpted quasi-sextet session, show why he has managed to remain relevant since the early '60s while so many others wallow in their back catalogue.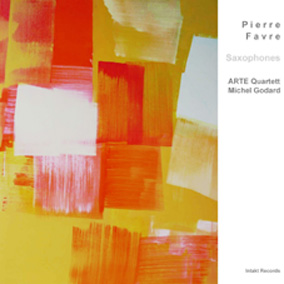 Pierre Favre
Saxophones
Intakt
2004
Saxophones , duly named because of the presence of the Arte Quartett (soprano, alto, tenor and baritone), is a set of tightly composed, semi-classical works, at times for solo drums (Favre being one of the innovators in this genre), at others for drums, the quartet and the additional voice of Michel Godard's tuba. Favre's presence on this record is more as behind-the-drumkit baton waver - except for the solo pieces, his drumming is strictly, though inventively, supportive. A wonderfully conceptualized album, Favre presents 11 pieces, most short statements, only the 11-minute "Anecdote" working in a suite-like format. Parallels to recent albums can be made with John Surman's Free and Equal (ECM) or Evan Parker's Alder Brook (Leo), other works which incorporate horns outside the typical solo-oriented jazz tradition. Favre's compositions make good use of the textural possibilities of the group's tonal range, be it with long tones or staccato bursts. At 50 minutes, the album can function as one multi-part piece, the solo drum sections used to break up the many varied, though overwhelmingly somber and gracious, melodies.


Irène Schweizer/Pierre Favre
Ulrichsberg
Intakt
2004
As melodic and restrained as Saxophones is is how bombastic Favre's live duet Ulrichsberg with countrywoman pianist Irene Schweizer can be. Schweizer and Favre have played together as early as 1967's Santana trio date with the late Peter Kowald (one track here is dedicated to him). The pianist also has made a career of working in tandem with creative drummers: Han Bennink, Favre previous to this album, Andrew Cyrille, Günter Baby Sommer, Louis Moholo (all also available on Intakt). This hour-long set is a masterful conversation on an array of topics. Schweizer avoids the heavy handedness of some other pianists concentrating more on wild intervallic jumps, tension-ridden passages and stylized jaunts. Favre, who has played in trad groups and free jazz combos has an amazing arrangement of techniques and approaches at his disposal; there is no direction Schweizer can go in without Favre providing the most tasteful accompaniment. It is this taste that separates these six pieces (5 to 15 minutes in length) from much improvised music—these musicians play free but think compositionally, creating a cohesion unexpected but certainly welcome.


For more information, visit Intakt on the web.


Personnel
Saxophones : Pierre Favre: drums, percussion; Michel Godard: tuba, serpent; Beat Hofstetter: soprano saxophone; Sascha Armbruster: alto saxophone; Andrea Formenti: tenor saxophone; Beat Kappeler: baritone saxophone.


Ulrichsberg : Irène Schweizer: piano; Pierre Favre: drums.
Instrument: Drums
Article Coverage
|
Calendar
|
Album Discography
|
Photo Gallery
|
Similar Artists
Post a comment