Album Review
Lou Lanza: Opening Doors: A Jazz Tribute to the Doors
By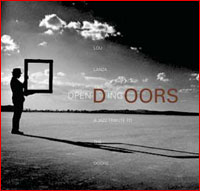 Jazz tribute albums to pop and rock groups pop up like dandelions year after year. They're almost always a terrible idea—listened to your copy of
Basie's Beatle Bag
lately?—but
someone
must be buying them, or musicians would stop doing them.
Opening Doors: a Jazz Tribute to the Doors seems upon first examination to be even more ill-conceived than most of these sorts of affairs. Love them or hate them, it's extremely difficult to separate the Doors' music from, well, Jim Morrison, Jim Morrison's leather pants, the Sunset Strip, LSD—the whole psychedelic era. José Feliciano notwithstanding, no one covers Doors tunes; unlike Bob Dylan's or the Beatles' compositions, the Doors' material just doesn't get played much by others. And by jazz musicians? Unheard of.

That said, the Doors were the jazziest of their era: drummer John Densmore loved his ride cymbal far more than most rock drummers, and Ray Manzarek's Vox Continental licks definitely had some cool-jazz sensibility. So perhaps Philadelphia jazz vocalist Lou Lanza knows what he's doing.

Lanza sets things up by packing the sessions with some terrific Philly jazz pros like trumpeter John Swana, saxophonist Ron Kerber and drummer Byron Landham. These guys could make Iron Maiden songs swing, and Lanza's given them some ingenious arrangements. "Riders on the Storm starts off the CD—probably good to get that "his brain is squirming like a toad lyric out of the way—with reverby, muted trumpet from Swana and Landham swinging hard in 5/4 time. Lanza's patented Chet-Baker-with-better-pitch pipes are in full force and darned if he doesn't pull the tune off. "Break on Through (organ mix) is just as good with Lanza charging out the gates scatting in unison with Kerber's alto; this leads into an excellent Kerber solo and an even better scat solo from the leader.

Not too surprisingly given the organ-heavy sound of the Doors, most of the tunes feature tasty Hammond B-1 from either Orrin Evans or Dan Zank. "Love Me Two Times has an R&B feel with staccato horn accents, and the album's one obscurity, "Wintertime Love, is a sweet ballad for the leader and Kerber's soprano sax. Most of the tunes swing and the playing and Lanza's singing are very good indeed, but after a while the Doorishness of it all weighs the album down. Lanza's tirelessly invested in the material, as a pro should be—he makes "People are Strange work almost through sheer willpower—but one gets the impression the album would be better if they could just do someone else's tunes. Lanza cleverly scats the famous organ intro to "Light My Fire, but to these ears, the song is just exhausted, drained of whatever power it once had no matter who is performing it. By the final track, another version of "Break on Through, it's something of a relief to realize that, in the words of the Lizard King, "this is the end.

No one could do a better jazz vocal album of Doors songs than Lou Lanza's done here. That said, no one else probably should even try, and I am going to look forward to Lanza's An Intimate Portrait in Blue , his upcoming album of non-Doors material.
Track Listing
1. Riders on the Storm 2. Break on Through (organ mix) 3. Hello, I Love You 4. Touch Me 5. Love Me Two Times 6. Wintertime Love 7. Light My Fire 8. Roadhouse Blues 9. Spanish Caravan 10. People Are Strange 11. Break on Through (Rhodes mix)
Personnel
Vocals: Lou Lanza; Trumpet: Wynston Byrd (#2,4-5,10), John Swana (#1,7,9); Saxophones: Ron Kerber; Hammond B-1: Orrin Evans (#1,3,7), Dan Zank (#2,4-5,8); Fender Rhodes: Dan Zank; Guitar: Rob Budesa (#2-6, 8-11), Pat Byrne (#1,7); Acoustic bass: Matt Parrish; Electric bass: Kenny Jackson; Drums: Leon Jordan (#2,4-6,8,11), Byron Landham (#1,3,7), Butch Reed (#9); Percussion: Leon Jordan
Album information
Title: Opening Doors: A Jazz Tribute to the Doors | Year Released: 2005 | Record Label: Unknown label
Post a comment about this album