Mary Ellen Desmond
A classically trained vocalist, Mary Ellen made her professional debut in 1988 by performing operatic arias at Philadelphia art openings. Simultaneously she was pursuing an interest in Country & Western music by singing with local bands of this genre for five years, until she settled in her niche within the jazz repertoire. Her father played guitar and banjo in society orchestras featuring popular and jazz standards during the 1940s and 1950s and as a child she grew up listening to this music around the house. She has been performing professionally as a jazz vocalist for over twenty years and considers herself very fortunate to be working with accomplished Philadelphia-based jazz musicians such as pianist Tom Lawton, bassist Lee Smith, tenor sax men Larry McKenna & Robert "Bootsie" Barnes, guitarist Michael Kennedy, and trumpeter John Swana.
Originally from Westfield, NJ, Philadelphia has been her home for nearly thirty years. She attended the Philadelphia College of Performing Arts and studied privately with operatic soprano Judith Rosenfeld. Later on she continued studying jazz piano, and studied briefly with Grammy nominated jazz vocalist Janet Lawson and Philadelphia's Anne Sciolla. Ms. Desmond's local club appearances include performances at Ortlieb's Jazz Haus, Chris' Jazz Café, The Philadelphia Four Seasons Hotel, The Showboat Casino in Atlantic City, NJ, Philadelphia & New Jersey area Jazz Vesper services, and various restaurants in the Phila / NJ area. In October of 2001 she accepted an invitation to perform for two weeks in Nagano, Japan, where she has returned since to perform. In December of that same year she was the opening act for Patti LaBelle at a Toys For Tots sponsored event in New Jersey. In May, 2003, she released a Tribute CD to Peggy Lee & Rosemary Clooney with another Philadelphia jazz vocalist Meg Clifton. This project granted them the honor and opportunity to perform as the opening act for Linda Ronstadt at The 5th Annual Rosemary Clooney Music Festival in Ms. Clooney's hometown of Maysville, KY. The Tribute CD also placed them on the roster of The Sonny Costanzo 2003-2004 Concert Series at Quinnipiac University in CT where they held a date scheduled between those held by Jane Monheit and Karrin Allyson. For several summers she has returned to her hometown to perform in their locally sponsored jazz festival, Westfield NJ's "Sweet Sounds Downtown."
Ms. Desmond's debut CD in 1998, Darn That Dream, was chosen as a top ten Critic's Pick in Cadence Magazine's 1999 Record Poll. Amongst critics and her contemporaries it is agreed that she is very capable of a successful crossover between jazz & classical styles. She feels that each genre enhances the other in regards to physical stamina, skill, flexibility, and emotive expression.
Read more
May 20, 2022
May 20, 2021
May 20, 2020
May 20, 2019
December 22, 2013
www.icondv.com September 2013 The Jazz Scene by Bruce Klauber "On the Record with Desmond"
Mary Ellen Desmond by Bruce Klauber http://jazztimes.com/community/articles/45296-singer-mary-ellen-desmond-the-most-refreshing-sound-in-jazz
Mary Ellen Desmond and Her Quartet at Chris' Jazz Cafe, Philadelphia by Victor L. Schermer http://www.allaboutjazz.com/php/article.php?id=33920
Recordings: As Leader | As Sideperson
Front Row Records
2013
buy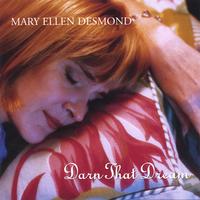 Front Row Records
1998
buy