Marcus L. Miller
Artist/percussionist, composer, and educator Marcus L. Miller is a multi-talented artist based in Southern California. Since his arrival in CA in 1993, Miller has worked tirelessly in the music and education fields, carving out a unique niche for himself and his abilities.
Miller is bandleader of his World/Jazz ensemble Freedom Jazz Movement. Miller founded the group in 1998 and since then they have played throughout the East and West coasts of North America. Miller writes the music for the group and usually performs with his jazz sextet. The group's size ranges from a duo to a 12 piece ensemble including three percussionists, a three piece horn section, traps, bass, piano, vocals, poet, and dancer. Based in Los angeles, the group performs often with the Lula Washington Dance Theatre at various theatres throughout the United States and internationally.
Among his various positions, Miller serves as President Universe Soul Records, and Co-Owner TaMar Productions, Music Director for the Lula Washington Dance Theatre, Artistic Director/Founder Young Drummers of Los Angeles, Music Consultant for St. Elmo Village and William Grant Still art center. Miller is also a member of SESAC, ASCAP, AFTRA, and the Recording Academy. Marcus endorses Remo drumheads & drums, Electro Voice microphones, Regal Tip drumsticks, Rhythm Tech percussion, and Istanbul cymbals. Marcus plays DW jazz series collectors edition drums.
Miller's musical accomplishments include three solo album releases, written music for dance used for Television and Theatre performance, created music for independent film scores and soundtracks, performed with a myriad of artists including Ben Harper, Ashanti,Sheila E., Michelle Shocked, Ozomatli, the Watts Prophets, Daniel Bernard Romain, Leon Mobley, Vinx, Tony Furtado, Bobby Bryant, and BoujouBumBastick.
Marcus' workshops continue to be a success. In 2006, he traveled to the Caribbean and Mexico to work with counselors and children at several club Meds. Closer to home, Marcus has been a regular on the Southern CA public library scene. His drum workshop program, MarcusMillerDrums, has reached well over 200 libraries and schools.
In 2007, Marcus served as Artist in Residence at the CA African-American Museum (CAAM) for the Target Sundays program. He has worked with the Skirball Cultural Center & Museum, the LA County Museum of Art (LACMA), Kidspace museum, Museum of Contemporary Art (MOCA), and the Getty museum facilitating educational drum workshops and music programs.
Miller founded the Young Drummers of Los Angeles in 1999. This group is comprised of young boys ages 8-16. Many of the drummers were Miller's private students whom he noticed had considerable talent, but no place to showcase it. In his role as the Artistic Director, Miller states he started the group so that the kids could have a place to perform in order to gain the invaluable experience of performing live on stage and have an alternative to gangs, drugs, and other potentially ganderous activities. The group has performed for events involving two mayors of Los Angeles, participated in festivals and parades, and performed in theatres with the Lula Washington Youth Dance ensemble. Presently Miller's 8 private students are the building blocks for the next generation of the Young Drummers of Los Angeles.
Read more
"Mercurial...A galvanizing jazz ensemble" - L.A. Times, "Electrifying and Energetic!" - Durham Sun, "A tasteful fusion bag" - L.A Weekly, "Cacophonous & Multihued...Miller's fine band" -Orange County register, "Psychedelic, swirling jazz beats recalling the '70s &'80s" -Portfolio Magazine, "Dynamite!" - The Virginian Pilot
Primary Instrument
Percussion
Location
Los Angeles
Willing to teach
Beginner to advanced
Credentials/Background
Chesapeake (VA) public School System 1992 New Roads School percussion teacher 1998-2002 Community Harvest Charter School percussion teacher 2002-2006 Ocean Charter School 2005-present William Grant Still art center percussion instructor 2003-present Lula Washington Dance Theatre drum teacher 1998-present Private Drum teacher 1989-present;over 100 students serviced $50/hr-children 6-17; $75/hr-adults 18+
Clinic/Workshop Information
Concert Schedule
Recordings: As Leader | As Sideperson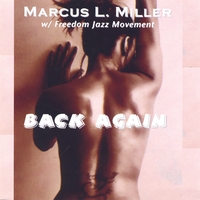 Universe Soul Records
2007
buy