Lainie Cooke
Lainie met her first microphone when she was three years old. It was love at first sight. She did her first radio show at six and television show at eleven. She became a band singer at the age of 14. She sang and entertained folks in her hometown of Minneapolis in large and small venues til she left college to come to New York City. And she is probably the only talented young person in history to leave New York City and go to L.A. to become a jazz singer. Lainie Cooke made her first and most lasting impression in the City of the Angels in the '80s making many fans and friends performing in the top jazz clubs of the Southland.
But New York is home and always will be.
When Lainie was twelve she won a city wide talent contest. First prize - a trip to New York. There on the corner of 46th & Broadway with the cars streaming by and the lights of New York dazzling her young eyes, she heard a voice in her head saying, "Well, you're home now." It was prophetic. After two years at the University of Minnesota, as a arts major studying acting, voice, music theory , she left her home to follow that voice. The Broadway stage was her goal, but her successes came instead from commercials, as she became a popular voiceover artist speaking off-camera for Jean Nate, Asti Spumante, Ford, McDonald's, The Daily News, Gillette, Ideal Toys, etc. and Infommercials, Industrials, TV promos etc, etc. etc.
Read more
Onyx Music Label
2015
buy
Harlemwood Records
2008
buy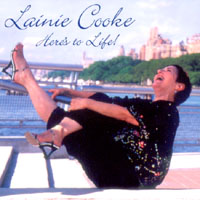 Harlemwood Records
2002
buy