Yes Or No by Gay Pearson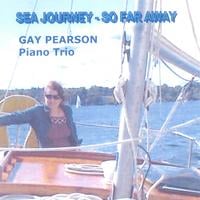 Buy Album
From the album
Album Title: Sea Journey-So Far Away
GP97004
Released: 0
Listen
About the Album
This is the first track of my latest release Sea Journey-So Far Away, recorded during December 2003 in my home which was in Trenton, N.J., at the time. I have since relocated to Falmouth, Maine, which provided the inspiration for this album: going back to my roots and releasing my "old salt" spirit of adventure for the first time. The cover reflects this, at the helm of a 24-foot cabin sloop. This track and two others were featured during August and September 2004 on WRTI (Temple U. public radio) in Philadelphia. As with my previous three releases, Tyrone Brown is the bassist.
Personnel
Date featured
March 25, 2006
This song appears by permission of the contributing artist and/or record company.
It is for personal use only; no other rights are granted or implied.