Preceding/Inner blast by Carla Marciano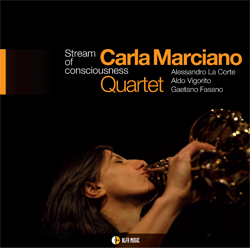 Buy Album
From the album
Album Title: STREAM OF CONSCIOUSNESS
Label: Black Saint
Released: 2012
Listen
Wonderful track from a wonderful album. Echoes of the John Coltrane Quartet as he transitioned from hard bop to free jazz. Plenty of fire and velocity, without ever becoming too hot to touch or too fast to keep up with. One of the more exciting albums of 2012. Enjoy!
About the Album
The track "Preceding/Inner blast" includes the introduction and the first part of the suite "Stream of consciousness", which gives also the title to this new album by the Italian saxophonist and composer Carla Marciano. As always she plays alto saxophone and the rarely used sopranino saxophone, and is once again the leader of her usual quartet comprising of pianist Alessandro la Corte, bassist Aldo Vigorito and drummer Gaetano Fasano. The CD contains solely original compositions, except for an elaboration of the English Traditional "God rest ye merry, gentlemen" and was recorded live in the studio, with the musicians all playing in a single space, so as to create an emotional and filter-free music, which is as direct and uncompromising as possible.
Song Listing
1. God rest ye merry, gentlemen
STREAM OF CONSCIOUSNESS
2. Preceding/Inner blast (Introduction/Part I)
3. Consequence (Part II)
4. Turning point (Part III)
5. Inside
6. Handshake
All compositions by Carla Marciano except #1 (English traditional elaborated by Alessandsro La Corte)
Personnel
Additional Personnel
Carla Marciano: alto saxophone, sopranino saxophone; Alessandro La Corte: piano; Aldo Vigorito: bass; Gaetano Fasano: drums.
Reviews
Date featured
November 21, 2012
This song appears by permission of the contributing artist and/or record company.
It is for personal use only; no other rights are granted or implied.
Instrument: Saxophone, alto
Article Coverage
|
Calendar
|
Albums
|
Photos
|
Similar Artists