Profile
Joe Fonda: Forever Real
Most cats are leaders and they run a band. But not too many people can co-run a band and make it last.
Talk to bassist Joe Fonda for even a short time and you get caught in the whirlwind. Conversation flows easily from one topic to another: from Anthony Braxton to Duke Ellington to Marvin Gaye or from Paul Wolfowitz to the best wine that goes with salmon. Fonda's one of those incessantly curious people who seems to want to know about everything. "Nuclear Joe is what I call him," says trumpeter Herb Robertson, his band mate in the Fonda/Stevens Group.
Fonda tackles his musical projects with the same wide-ranging enthusiasm. The Nu Band, a group with Mark Whitecage, Roy Campbell and Lou Grassi, has released
The Nu Band On Tour
(Konnex) and is touring Europe. Conference Call, a group with Gebhard Ullmann, Michael Jefry Stevens and George Schuller, has a tour of Portugal in March and a new release on 482 Music. The FAB Trio, with jazz legends violinist Billy Bang and drummer Barry Altschul, is lining up a small American tour in the spring. The documentation of Joe's ongoing work with Xu Fengxia, a master of the traditional Chinese stringed instrument, the guzheng, continues with a new recording (the superb
Separate Realities
on the Belgian W.E.R.F. label) as a trio with Dutch saxophonist Andre Goudbeek. The duo will be at the Guelph Festival this fall. We can't leave out his recent work in both a duo and with a trio behind singer Katie Bull, one of the few of the new crop of jazz singers who matter.
But the project that Fonda tends to be most effusive about and that seems to be closest to his heart is the Fonda/Stevens Group, a band he's co-led with pianist Michael Jefry Stevens for 12 years. "It's amazing, we've been able to share the bill 50/50 and run a band for 12 years and still keep it happening. And there aren't many people that can do that." Perhaps the most frustrating thing is that for a band that's put out consistently good records (their eighth release,
Forever Real
on 482 Music, is due shortly) and regularly tours Europe (15 tours in the last 8 years according to Stevens) it's probably least-known in their homeland. As Robertson says, "We're probably the most unheard American band in America."
The band rose out of the ashes of two groups in 1992. "Joe and myself were members of two bands, the Mosaic Sextet and Mark Whitecage's Liquid Time band. Dave Douglas [trumpeter in both bands] decided he wanted to go out on his own. That was around '91. It took another year and Joe and I had been playing and rehearsing together and we decided to start another band. We wanted a band to explore our compositions. I think you get comfortable with people you know and like. We had a good time in all the other bands so we decided to co-lead this one."
Which, to those familiar with the two leaders, might raise some eyebrows. The two are like night and day or perhaps more accurately like Laurel & Hardy, two opposed characters who complement each other perfectly. Fonda assesses it like this: "Michael is like Mr. Organized. I'm more like Mr. Idea Man. We balance each other out in that sense but it also means we bump heads a lot. It's a lot of give and take." Stevens describes the relationship in his characteristic deadpan manner, "I'm tall, he's short." Asked to elaborate, "He's very vivacious and I'm very reserved. I can be kind of shy and like to be alone and he likes to be around people. But it seems to work."
Musically, the two, while not opposites have very different approaches. "Michael is a songwriter. I'm into structure and concepts. My first approach to a piece is rhythmic. Michael is a true pianist. Harmony is the most important thing to him. Me, I don't get to harmony until the last part. Michael once said about my pieces, 'Joe's an architect.'"
According to Stevens, "I'm a romantic and he's more of an experimenter. My music is all about melody, harmony and Joe's is more conceptual. I think he learned a lot from Braxton. I'm trying to create things that are beautiful and that's not what Joe's trying to do. He's trying to do things that are interesting and make you think." But rather than sounding like two different bands, Fonda/Stevens Group's music seems to spring from one well.
This poses interesting strategies for the band's other two members. Drummer Harvey Sorgen sees it like this, "That's why I really dig playing in this band. They're such different characters, players and composers. The way I've approached the material over the years is to try to push Michael's music out a bit and maybe pull Joe's music in a little bit. It becomes more of a cohesive statement by the band as opposed to this is a 'Michael Stevens' song and this is a 'Joe Fonda' song. So they're not radically different from each other. And over the years, the way they've each written material for the band and the way the band's played the material...it's gotten more...I don't want to use the word 'coherent' but more 'intertwined'."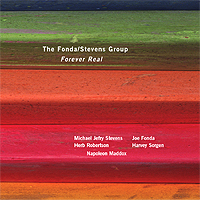 Their forthcoming release,
Forever Real
explores that same dichotomy inherent in Fonda's and Stevens' compositions. It also continues the group's penchant for throwing the listener a curve. In the past they've had guest members with the group (e.g. saxophonist Daunik Lazro) and abandoned the composition format entirely for one album, 12 Improvisations. On
Forever Real
, they have Cincinnati-based hiphop artist Napoleon Maddox guesting on two tracks. It was Fonda's idea: "You know for me I've never been into separating music. For me it's always been part of the same continuum. I've always been able to hear it. You know, I can listen to Mozart or Stockhausen and it's always made sense. That's just the way I've always been. Personally, I think that's the way it should be. I've never thought about separating it. Why would you want to?"
It's that type of receptiveness that makes this band such a winning proposition. And its that type of openness among all four members but especially between the leaders that's made Fonda/Stevens a band that has lasted. Fonda sums it up, "We're so different and we've all bumped heads from time to time but we've kept it together and shared the responsibility. I don't know, maybe it's just some kind of spiritual thing that we can do that. Most cats are leaders and they run a band. But not too many people can co-run a band and make it last."
Recommended Listening:
· Mosaic Sextet - Mosaic Sextet (GM, 1988-'90)
· Anthony Braxton - Charlie Parker Project 1993 (hatART, 1993)
· Joe Fonda/Michael Jefry Stevens Group - Live at the Bunker (Leo, 1999)
· Joe Fonda - Full Circle Suite (CIMP, 1999)
· Conference Call - Variations on a Master Plan (Leo, 2001)
· F.A.B. Trio - Transforming the Space (CIMP, 2003)
Photo Credit
Steven M. Johnson
Instrument: Bass, acoustic
Article Coverage
|
Calendar
|
Album Discography
|
Photo Gallery
|
Similar Artists
Post a comment