Profile
Gebhard Ullmann
By
The whole way of putting up a jazz concert over here is different than the way you do it in Europe. In Europe, it's like a classical concert, it's very serious.
Gebhard Ullmann is a study in counterpoint. He is a composer of scores fluctuating from trio to tentet, building metered music without rhythm sections and has long called both New York and Berlin his homes, finding inspiration in each city. He has used rock listening and classical training as an inspiration for his jazz work, and has swung from free improv to through-composed suites and back again.
At any moment, Ullmann has working groups in Europe and the U.S., and jets back and forth recording and touring both continents. He is at present woodshedding a new band (with Gerry Hemingway, Mark Helias, Tony Malaby and Steve Swell) for a European tour while touring his Conference Call (with Joe Fonda, Han Bennink or George Schuller and Michael Jefry Stevens) for a tour of the American South. He has trio recordings with a pair of bassists (Chris Dahlgren and Peter Herbert,
BassX3
, released by Drimala) and the third effort by his clarinet trio with Jürgen Kupke and Michael Thieke, to be released like the previous two by Leo. He finds, it seems, many tales to tell in his two cities.
For years Ullmann made his home in Park Slope, above the cigar store featured in Wayne Wang's movie Smoke. But as the neighborhood's tony quotient increased, Ullmann found a share in Manhattan's Upper West Side. And while his concerts in New York are rare, he regularly comes to town to rehearse his various projects.
"Whatever sounds I hear in my neighborhood, where I live, it shows up in the music sooner or later," he said. "New York is hectic, very intense. Berlin is maybe less hectic but very intense."
But in either city, there are moments of peace, of life, which provide him with inspiration. "You see a woman sitting with a child, it looks like a painting, it's almost unreal," he said. "And that's the same in every city."
Berlin is also a more contemplative and less money-oriented place then New York, he said. People sit in bars and talk about societal change, which they might do in New York as well, he added with a grin, but in New York the beer costs $7 and in Berlin they're $3. "So you drink another beer and talk some more."
While he might call New York a second home, however, it's not a place he looks to play.
"The whole way of putting up a jazz concert over here is different than the way you do it in Europe. In Europe, it's like a classical concert, it's very serious. Here the PR is bad and the piano is not tuned, and it may be a great concert and you try your best, but I get a little tired of that."
Ullmann studied classical flute while growing up in Cologne and listened to contemporary composers such as Stockhausen and progressive rock bands like Can, Henry Cow and Hatfield and the North. His first band was a free improv trio with a keyboardist and a vocalist and Ullmann playing saxophone and Lyricon, an early electronic sax. Before long he found himself going against the free jazz grain, writing increasingly complex settings for larger and larger groups. Not one to be trapped in the linear, however, Ullmann has found himself back in the improvising mold with his American bands, particularly the Conference Call quartet as his "most traditional line-up", at a time when improvisation perhaps has become the tradition and composition cutting edge.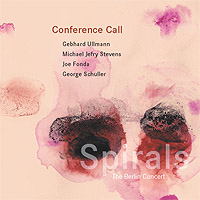 Less traditional, by any definition, are his double bass trio and his clarinet trio, a pair of slow-moving, low-end groups (the clarinet trio features two bass clarinets). They play thoughtful compositions that live down in the speaker's woofers. Ullmann enjoys working in threes, the ensemble stripped down to basic rhythm, harmony and melody, but has avoided the conventional reed/bass/drum group. "I wasn't interested in that because it's been done really well," Ullmann said, citing in particular Sonny Rollins.
"I tend to work on the low tones," he said. "When I started to play bass clarinet in the late '80s, I found the low end of music. I discovered what bassists do, and all these possibilities of building the music up from the low end."
Ullmann's bottom-up approach was developed in 1994, when he had the opportunity to spend two weeks in a recording studio. He began composing for the bass clarinet and built layers up to the piccolo for a set of compositions recorded by an octet (
Moritat
, 99 Records, 1994) and later a tentet (the excellent
Ta Lam Zehn: Vancouver Concert
, Leo, 2000). The horn-heavy groups (without a rhythm section, but including Hans Hassler on accordion) are complex and multi-layered. A first listen might sound like a melody line with scribbles underneath, but upon repeat plays intricate relations appear in the arrangements.
Even his solo album isn't so simple.
Ta Lam
, released by 99 in 1993, has overdubbed tracks and two other musicians. In the liner notes, fellow saxophonist David Liebman writes that "the use of Hans Hassler's accordion does not mean this is not a pure solo recording. The instrument, used sparingly, sounds to me like Gebhard's alter ego, occasionally commenting on the goings on." One can almost imagine Ullmann intending to simplify but then laying down four horn tracks and wanting more.
His music will expand again with an upcoming Soul Note release featuring the North German Radio Big Band. "I'm not a fan of big band music," he said. "It took me a couple of weeks to decide how I am going to do this. Now I've got 20 musicians instead of four or ten."
He ultimately approached it by calling in other arrangers to work through his compositions. Charts were given to Dahlgren, Japanese pianist Satoko Fujii and compatriots Andy Emler and Günter Lenz, and each was asked to work two or three pieces into a single arrangement, providing even more layers in his dense music. It promises to be an even thicker set of Ullmann's resonant work.
"If I produce a CD, I don't want it to be an immediate success," he said. "I want it to be a success after 20 years, which doesn't make life easy."
For more information, visit
www.gebhard-ullmann.com
.
Recommended Listening:
–
Enrico Rava/Gebhard Ullmann/Andreas Willers/Martin Lillich/Nikolaus Schauble
(Nabel, 1989)
– Gebhard Ullmann/Andreas Willers -
Ta Lam
(99 Records, 1991)
– Gebhard Ullman -
Ta Lam Zehn: Vancouver Concert
(Leo, 1998)
– The Clarinet Trio -
Oct.1, '98
(Leo, 1998)
– Conference Call -
Spirals: The Berlin Concert
(482 Music, 2003)
– Gebhard Ullmann -
Bassx3
(Drimala, 2004)
Related Article
2003 Interview
Photo Credit
Jacky Lepage
---
FOR THE LOVE OF JAZZ
All About Jazz has been a pillar of jazz since 1995, championing it as an art form and, more importantly, supporting the musicians who create it. Our enduring commitment has made "AAJ" one of the most culturally important websites of its kind, read by hundreds of thousands of fans, musicians and industry figures every month.
WE NEED YOUR HELP
To expand our coverage even further and develop new means to foster jazz discovery and connectivity we need your help. You can become a sustaining member for a modest $20 and in return, we'll immediately hide those pesky ads plus provide access to
future articles
for a full year. This winning combination will vastly improve your AAJ experience and allow us to vigorously build on the pioneering work we first started in 1995. So enjoy an ad-free AAJ experience and help us remain a positive beacon for jazz by
making a donation today
.
Post a comment