Jon Eberson: Dreams That Went Astray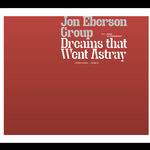 It's surprising how little Jon Eberson is known outside of his native Norway. He has a very attractive guitar sound, something close to Pat Metheny, and an often astonishing technique. Both aspects of his playing are shown to great effect on
Dreams that Went Astray
.
Eberson's group is perfect for the situation. The partnership of drummer Pål Thowsen, who first came to prominence in the mid-'70s on Arild Andersen's ECM debut, and electric bassist Tom Erik Antonsen, who shows clear Paul Jackson and Marcus Miller influences, provides a firm and funky rhythmic base over which Eberson weaves his complex lines with subtle yet harmonically rich keyboard backdrops provided by Bugge Wesseltoft.
The two guest artists are also perfect for the session. DJ Strangefruit, known for his key role with Nils Petter Molvær, substantially enriches the texture on a number of tracks, most notably "Pushing the Beat" and the title track. Singer Beate Lech, leader of nu jazz group Beady Belle, guests on three tracks. Her role on "Clandestined Band" is possibly the high point of the album and one of her finest moments on record. The track also has Thowsen's best playing on the album, switching from the backbeat-driven funk of other tracks to a more swinging style owing something to Tony Williams but unique in its own way. Another remarkable factor of the success of the piece is the build up of harmonic expectancy over long passages on a single harmonic area that is then released on a killer chord sequence.
Bugge Wesseltoft's role should not be underestimated. Though he spends the majority of the album out of the limelight, with only the title track giving him any real solo space, his role throughout the album in setting the mellow backdrop in which Eberson thrives is crucial. One album that Dreams that Went Astray bears resemblance to in a textural sense is John Scofield's Still Warm , and Wesseltoft's role can be compared with Don Grolnick's on that record. The comparison is clearest on the tracks "Clandestined Band" and "Victim of Own Desires."
Elsewhere, some surprising textural references are made to '70s Miles Davis. Davis's influence is strong on the Norwegian nu jazz scene but given how different Eberson's music is to the more drum-n-bass driven sounds of many of his younger countrymates, the Miles references are a little more surprising but extremely effective. Wesseltoft puts in some Agharta -era organ touches at several points on the album, and Eberson himself adds some McLaughlin touches to the title track.
Dreams That Went Astray is certainly the hidden gem of the Jazzland catalogue and is well worth searching out for anyone into the current Norwegian nu jazz scene or just fine modern guitar playing.
Track Listing
1. Pushing the Beat, 2. Wish, 3. You Passed Me Like a Wind, 4. Clandestined Band, 5. Prisoners of Ego's Device, 6. Victim of Own Desires, 7. Everlasting Star, 8. Dreams that Went Astray
Personnel
Jon Eberson - Guitar; Bugge Wesseltoft - Keyboards; Tom Erik Antonsen - Bass; P
Album information
Title: Dreams That Went Astray | Year Released: 2004 | Record Label: Jazzland Recordings
Post a comment about this album