John Benitez Trio: Descarga In New York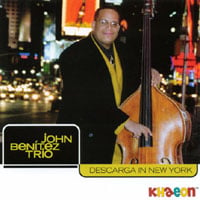 With his first solo release, it is easy to see why John Benitez is one of New York City's busiest first call bassists. The young artist has supported the "Mingus Big Band," famed Afro-Cuban percussionist, Mongo Santamaria, trumpeter Wynton Marsalis and many others, yet takes a leadership role with his trio and others for this frisky, up-tempo outing.
Benitez is a bassist who possesses a broad tone, performing primarily on acoustic, while we also get to hear drummer, Dafnis Prieto's sweeping Latin/Caribbean polyrhythmic attack for what equates to a monstrous rhythm section. Hence, Prieto is a drummer who possesses superstar-like qualities. - Saxophonist, Ravi Coltrane appears on two pieces, while pianist Luis Perdomo steers the band through a series of richly thematic yet thoroughly grooving jazz based workouts along with percussionist Richie Flores and Prieto's sinuous rhythms. Meanwhile, Perdomo's use of the Fender Rhodes on "B. Smooth" pronounces a cheerful vibe, thanks to Benitez' pumping electric bass lines amid a tinge of clave and a memorably melodic hook. Essentially, the band serves up a hot and spicy concoction as Benitez' freshman solo effort packs a mighty punch. Recommended.
Personnel
John Benitez: bass.
Album information
Title: Descarga In New York | Year Released: 2001 | Record Label: Khaeon World Music
Post a comment about this album