Mindy Jostyn: Blue Stories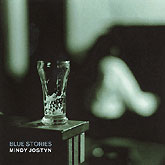 Mindy Jostyn is a solid Renaissance woman: a multi-instrumentalist toting a resume replete with appearances with John Mellencamp, Carly Simon, Billy Joel, and others. She came my way while I was watching
Emeril Live!
on the FoodTV channel (what Ozzie Osbourne calls "The Bake Your Own Bread Channel"). Performing with Doc Gibbs and the rest of the band, she played no less than four instruments (guitar, accordion, harmonica, fiddle), all prompting me to say, WOW! And she looked a bit familiar, besides that. That is often the lot of studio musicians, that breed of performer who spends the better part of their time making other artists sound better. I suspect that Ms. Jostyn has a Ph.D. in making other artists sound better.
But it is an ignorant public who has not caught on to Ms. Jostyn's recordings as a leader, which currently number four:
Five Miles from Hope (Demon Records 781, 1995)
Cedar Lane (Palmetto Records 2025, 1997)
In His Eyes (Moonboy Records, 1998)
Blue Stories (Prime CD PCD 78, 2002)
All have been warmly received and for good reason. Ms. Jostyn's most recent release, Blue Stories, is an exceptional solution of folk, blues, Dixieland, pop, rock, Celtic and country, all simmering into a truly distinctive sound. Ms. Jostyn herself describes this recording as
a collection of songs about people and their plights. Different characters struggle with circumstance. [These are] 15 sad but human melodramas. I've tried to treat these people compassionately. I'd prefer that listening to the CD not be an experience in darkness — rather, one in a semi-pale shade of blue. Twilight blue, say, with a smattering of stars.
That is a really great vision.


That said, the listener should be very cognizant of Ms. Jostyn's lyrics. She is quite as master songster, spinning out tales overheard at truck stops ("Sam's Back with Sadie Again"), stories of those who have "not loved wisely, but too well" ("Don't Turn Away") and tomes from the male perspective about the female condition ("Empathetic Woman").
Mindy Jostyn's instrumental ability is second to none. She plays all keyboards, harmonica, guitar, violin, and every other damn thing that can be played and played well—very much the total package.
Visit Mindy Jostyn .

Track Listing: Till We Meet Again; History Of Dreams; Sam's Back With Sadie Again; City Of Blue Stories; East Of Eden; Eden Reel; Empathetic Woman; Letter In The Rain; Till We Meet Again; The Last To Know; Loner; Guess I'll Go Back Home This Summer; Rock City Road; That's The Way I've Always Heard It Should Be; Turning It Over To You. (Total Time: 76:42).
Personnel: Mindy Jostyn-Every Instrument One Can Imagine, Vocals. John Putman, Marc Muller, Stuart Kimball-Guitars; Tommy Mandel, Joel Diamond-Piano; Alfredo Scotti, Conrad Korsch, Paul Adamy-Bass; Jeff Berman; Graham Hawthorne, Rick Bausman-Drums, Percussion; Aaron Heick-Clarinet; Catherine Russell, Carly Simon, Janie Barnett, Dave Phillips-Background Vocals
---