Soft Machine: BBC Radio / 1971-1974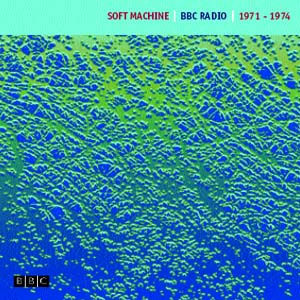 Soft Machine is one of a select number of musical entities to have adopted names from William S. Burroughs' writings; others include Steely Dan and DJ Spooky That Subliminal Kid. To do so in some way implies a radical agenda, an outsider view of things. Soft Machine was certainly never mainstream in its approach to jazz, exploring as it did a fusion with rock and other musics. This release brings together all four of the group's BBC radio sessions from the latter part of its career and reveals an ever changing lineup which by 1971 had seen the departure of its most famous members Robert Wyatt and Kevin Ayers.
"As If"
begins and ends in short-lived skronk mode, but for most of its eight minutes it dedicates itself to a bass vamp which breathes heavily down the neck of the listener while being trampled underfoot by Phil Howard's flailing drums, railed at and hectored by Elton Dean's saxophone and sprinkled with a kaleidoscope of notes from Mike Ratledge's electric piano. Phew.
"Drop" arrives on the eddies of a heavily wah pedalled Rhodes and the metallic timbre of brushed and beaten cymbals. After a few minutes a driving rhythm gains firm foothold and pulls the band along in its wake, at which point a lengthy piano solo with a very '60s sound is ably delivered by Mike Ratledge. "Welcome to Frillsville" was apparently an entirely spontaneous piece of music, on which evidence it seems a shame that it signalled Elton Dean's swan song and a turn away from a form of rhythmic improvisation which was both brave and engaging.
Two former members of Nucleus, John Marshall and Karl Jenkins, join Soft Machine for the remainder of these sessions, which would see a greater focus upon composition with surprisingly little sacrifice of the energy which characterises the first session. "Sinepost" is a rather glorious fuzz bass solo segueing directly into a groovy "Down This Road," off which surf various keyboard and flute solos. "Hazard Profile parts 1-4" begins with slow bells interrupted by regal chords drawn out over a rapid, hypnotic rhythm which is then subjected to Allan Holdsworth's electric guitar strafes, slides and races.
Soft Machine was a group which, on the evidence of the liner photos, was wedded to radical facial hair – but more importantly, it joined driving rhythms with free solos and interesting structures to powerful, energising effect. These two CDs are an excellent document of Soft Machine's later jazz rock explorations.
Track Listing
Disc One: 1. As If 2. Drop 3. Welcome To Frillsville 4. Fanfare/All White/MC/Drop 5. Stanley Stamp's Gibbon Album 6. Hazard Profile part 1
Disc Two: 1. Sinepost 2. Down The Road 3. North Point 4. The Man Who Waved At Trains 5. Hazard Profile parts 1-4
Personnel
John Marshall
Album information
Title: BBC Radio / 1971-1974 | Year Released: 2003 | Record Label: Hux Records
Post a comment about this album