Jazz Articles
Daily articles including interviews, profiles, live reviews, film reviews and more... all carefully curated by the All About Jazz staff. You can find more articles by searching our website, see what's trending on our popular articles page or read articles ahead of their published dates on our future articles page.
Album Review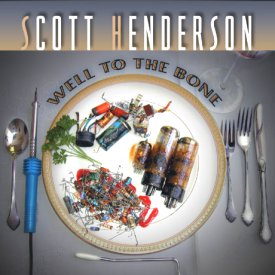 by Glenn Astarita

The latest rock-blues solo effort from guitar hero Scott Henderson features more of a fusion spin than some of his previous efforts, although the guitarist's fabled Tribal Tech aggregation is firmly rooted within the fusion arena. But Henderson is not merely content with rehashing tried and true formulas. With this release, he continues to explore just about every nook and cranny his instrument of choice has to offer. Sure, his jaw-dropping chops are intact, amid abundant doses of mildly discordant ...
read more
Album Review
by John W. Patterson

Okay, it's time for me to "coin a phrase," to pull a genre rabbit outta ma hat, and try to pin this T Tech release down, (tho' it be a'rigglin' madly), and be done with this weirdling of jazz-ish fusionid birthings. Hunh? Henderson et al have gone off da deep end on dis one folks. It is so full of whacko riffs and bizarro moments that you would think T Tech hath gone mad. But herein lieth genius . . ...
read more
---