ONE MORE TIME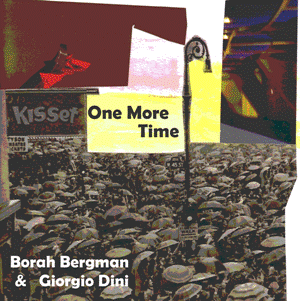 buy album
Label: SILTA Records
Released: 2008
Views: 317
Track Listing
http://www.siltarecords.it/eng2moretime.html 1. ONE MORE 10'23" 2. AUTOGRAPH TWO 2'37" 3. HUSTLE 8'57" 4. ENOUGH FOR HIS KEEP 4'24" 5. EQUITABLE 3'40" 6. A PATTER OF FOOTSTEPS 1'31" 7. NO MORE COSMETIC 9'20"
---
Personnel
Additional Personnel / Information
Borah Bergman (piano) Giorgio Dini (double bass)
Album Description
Seven extemporaneous improvisations, played in an afternoon in July 2007, - an outstanding performance of the historical newyorker pianist Borah Bergman in duo with bassist Giorgio Dini: after the released CDs with Thomas Chapin, Anthony Braxton, Evan Parker, William Parker, Hamid Drake and many other known names of the 'New Stream' of world Jazz, the very first Borah's recording in duo with double bass. You can't miss it.
Album uploaded by Giorgio Dini
---
Post a comment about this album