Mary Lou Williams: A Grand Night for Swinging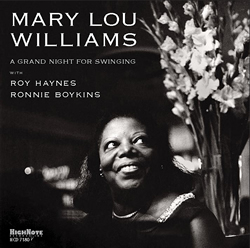 If Mary Lou Williams had never resumed her career after she abandoned it for religious reasons in the early 1950s, her paramount place in jazz history would still be secure. As a pianist, composer and arranger from the late 1920s through the 1940s, she was the music's premiere female musician, working with the likes of Andy Kirk, Benny Goodman, Tommy Dorsey and Duke Ellington during the Swing Era. And when bebop came along, Williams embraced it and befriended the likes of Dizzy Gillespie, Bud Powell and Thelonious Monk.
But thanks to a Jesuit priest, Peter F. O'Brien (now the executive director of the Mary Lou Williams Foundation), who met her in the Catholic Church and persuaded her that her art was a gift from God that she should not abandon for prayer and religion, Williams resumed her career for the last two decades plus of her life (she died at 71 in May of 1981). That second career included concerts (one a duo with Cecil Taylor), festivals, religious pieces (most notably "Mary Lou's Mass" featuring Gillespie, a band and singers) and many trio gigs like the one on this CD, recorded at the Statler Hotel in Buffalo in 1976, with bassist Ronnie Boykins and drummer Roy Haynes.
Although she wrote over four hundred compositions, except for her takeoff of "Bags' Groove" ("Bag's Blues"), Williams here plays jazz tunes by others and standards. Notable throughout is her left hand, a decidedly strong, boppish update of the stride and boogie-woogie style she mastered in her younger days. An ostinato-like left hand figure is a constant in her deep exploration of "My Funny Valentine," while a rolling left hand dialogues with or counterbalances her right on "I Can't Get Started." On "Bag's Blues" she conjures up big band riffs and shout choruses from her Kansas City days, while "St. Louis Blues" is sheer, joyous swing. Her modernist credentials surface on John Stubblefield's "Baby Man," while "Caravan" and Billy Taylor's title track afford her ample jaunty finger-snapping moments, with the former also featuring a tightly structured, vibrant Haynes solo.
Track Listing
I Can?t Get Started; Grand Night for Swinging; My Funny Valentine; St. Louis Blues; Baby Man; Caravan; Bag?s Blues; Grand Night for Swinging (Reprise); Interview with Mary Lou.
Personnel
Mary Lou Williams: piano; Roy Haynes: drums; Ronnie Boykins: bass.
Album information
Title: A Grand Night for Swinging | Year Released: 2008 | Record Label: HighNote Records
Post a comment about this album