Three By Three: The Evolving Art Of The Trio - Rob Mullins, Fred Fried, & Linton Garner Trio
By
The jazz trio continues to be an enduring format for expression. The key thing is that
any
instruments can make up the trio. Here are three examples.
Rob Mullins
Standards & More
Planet Mullins
2006
Okay, okay, I cooked the books on this one. Standards & More is a live quartet recording with a tenor saxophone front. It ended up here with my rationalizing that the recording is a piano trio with tenor saxophone. Nevertheless, here it is. Rob Mullins is an over-the-top veteran pianist from the sunny climes of Southern California. Recorded live at the Steamers Jazz Club in Fullerton, California, Standards & More is Mullins' first straight-ahead jazz recording since 1989/1996's Jazz Jazz.
The disc is divided 50/50 between "Standards and "More. Mullins makes a powerful argument as a composer on the disc opener, " Bb Major Etude, where he takes an established classical tool and reforms it into sleekly angular bop, accelerated by Jimmy Roberts' muscular tenor. On the standards side, "Angel Eyes is performed as a densely decadent tone poem filled with block chords and tightly integrated bass and drums.
Mullins' rearrangement of Beethoven provides a rocking "Fur Elise that segues perfectly into the roadhouse funk of Bobby Timmons' classic "Moanin'. Add to these Mullins' reworking of "Giant Steps into a wonderfully loping romp and his own channeling of "Monk's Ghost. The latter is a blues juggernaut and the former a wisely crafted reconsideration. Standards & More is a disc not to be ignored in 2006.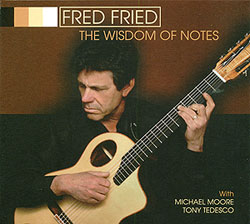 Fred Fried
The Wisdom Of Notes
Ballet Tree
2006
One of Fred Fried's claims to fame is that he is, along with the Pizzarellis, a master of the seven-string guitar. The tuning on a seven-string guitar is the same as a standard guitar with the lowest sting (highest gauge) tuned to low B. This permits the guitarist greater walking bass playing, a technique well demonstrated by Fried on the medium tempo pieces like his original title composition. Fried's bass string playing perfectly accents his bassist, Michael Moore's assertive time keeping. Fried uses his fingers rather than a plectrum, giving his playing a pianistic quality. Fried shows this off most effectively on the disc's ballads, such as "You Must Believe In Spring, and "In Your Own Sweet Way. His playing ripples with a faintly Latin tang.
The disc is tied down by the final three pieces, each swinging with the effortless momentum characteristic of the finest musicians. Frank Loesser's "Spring Will Be A Little Late This Year is propelled off time by Moore. Fried takes the opportunity for an angular introduction and solo. Plaintively presented, Fried mixes disparate guitar styles from Wes Montgomery to Joe Pass into the bubbly mix ultimately stirred by Moore's brief solo. Johnny Mandel's exquisite "Moon Song, precisely played by Fried, is clarified through a Latin-Caribbean screen. Drummer Tony Tedesco shows off his chops.
Fried concludes his "Spring theme with "Spring Can Really Hang You Up the Most. This is Fried at his most pastoral, a solo recital infused with dissonance, nervousness, and discontent. A quiet coda to a superb recording.
Linton Garner Trio
Quiet Nights
Cellar Live
2006


The late Linton Garner (1915-2003) was brother to the better know Erroll Garner and a jazz pianist of rare talent in his own right. Garner's piano style is at once bright and illuminating. From the opening bars to "The Days Of Wine And Roses the listener knows that this live set, recorded at Vancouver's The Cellar, is going to be special. Garner's trio consists of bassist Russ Botten and tenor saxophonist Ross Taggart. The recording took place November 17, 2002, a mere four months prior to Linton's death on March 6, 2003.
Most striking immediately are the recording sonics. The band is placed far out front, sounding as if they are performing in one's living room. The instruments are well maintained and separated in sound. Botten's solo on Linton's "Blues For Jimmy Q is crisp and full. Taggart's tenor is reedy and muscular. To be sure this is a straight-ahead set, never veering outside the lines. This makes the disc an absolute delight. The extended "All The things You Are, played sans the Gillespie-Parker introduction, percolates with a bubbly freshness cut with Taggart's coffee-toned tenor. An adult treat.
Jobim's "Cordova is carefully crafted by Botten's precise playing. Garner blocks the song, giving it a very complete feel. "It Could Happen To You skips, "Just Friends strolls, and "Things Ain't What They Used To Be sounds like last call. Linton Garner's loss is a great one, but gratefully, it did not occur until these fine sides were waxed.



Tracks and Personnel
Standards & More
Tracks: Bb Major Etude; Angel Eyes; Fur Elise; Moanin'; In A Sentimental Mood; Giant Steps; When I Fall In Love; Monk's Ghost; Island Girls; Listen J.R.'s Blues.


Personnel: Rob Mullins: piano; Jimmy Roberts: tenor saxophone; David Levray: bass; Evan Stone: drums.


The Wisdom Of Notes
Tracks: With A Song In My Heart; The Wisdom Of Notes; You Must Believe In Spring; Evening Song; In Your Own Sweet Way; Peau Douce; The Simplest Things; Seesaw; Spring Will Be A Little Late This Year; Moon Song; Spring Can Really Hang You Up The Most.


Personnel: Fred Fried: 7-string acoustic guitar; Michael Moore: bass; Tony Tedesco: drums.


Quiet Nights
Tracks: All The Things You Are; Corcovado (Quiet Nights); Don't Blame Me; It Could Happen To You; Just Friends; Things Ain't What They Used To Be; Days Of Wine And Roses; Polka Dots & Moonbeams; Blues For Jimmy.


Personnel: Linton Garner: piano; Russ Botten: bass; Ross Taggart: tenor saxophone.
Post a comment
---
FOR THE LOVE OF JAZZ
All About Jazz has been a pillar of jazz since 1995, championing it as an art form and, more importantly, supporting the musicians who create it. Our enduring commitment has made "AAJ" one of the most culturally important websites of its kind, read by hundreds of thousands of fans, musicians and industry figures every month.
WE NEED YOUR HELP
To expand our coverage even further and develop new means to foster jazz discovery and connectivity we need your help. You can become a sustaining member for a modest $20 and in return, we'll immediately hide those pesky ads plus provide access to
future articles
for a full year. This winning combination will vastly improve your AAJ experience and allow us to vigorously build on the pioneering work we first started in 1995. So enjoy an ad-free AAJ experience and help us remain a positive beacon for jazz by
making a donation today
.