Aafje van Summeren: Space Unknown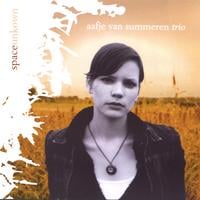 With a delicate and airy but accurate voice, Aafjie van Summeren weaves a musically seductive spell on
Space Unknown
. Of the eight tunes, five are originals co-written with
Steve Blanco
, whose trio recently released
Contact
.
Summeren is accompanied by Blanco and Adam Roberts, the bassist who added so much to
Contact
. Roberts is so strong that the drums are not missed, and Blanko's piano playing is as much on display as Summeren's singing. The effect at times would be that of a piano duo record with occasional vocals, if it were not for structure of the tracks. These usually start with Summeren's unique vocals, which are then combined with unusual melodic and harmonic structures.
The original tracks, then, become much more than tunes. They seem to have a story line that is outlined by non-standard melodic structure and harmonic treatment. The story is then handed from the vocalist to instrumentalists, who expound and expand its meaning until the vocalist returns with the melody now forever changed.
The covers change the whole equation, because they place the group in creative pop/jazz standard territory, with all of the familiarity that comes with it. Any instrumentalist, especially a singer, risks a lot by asking for comparisons. This is particularly the case with Joni Mitchell's "Black Crow," and thus the song's original features and this version become united with the composer in the collective audience's mind. How can one produce a fresh version while staying in touch with the song's original meaning? Summeren creates more than a Joni Mitchell imitation, but less of a total (and successful) reworking than "Woodstock" got by Crosby, Still, Nash and Young.
"Skylark" has its own dangers. It's one of the most instantly recognizable and beautiful tunes in the jazz songbook, and hence everyone has recorded it. The feeling on this piece, to these ears, is that in an effort to stand apart, the song lost its melancholic undertone through an overly fast and light treatment.
All of this pales, however, with the triumph of "You Don't Know What Love Is," a torch song if there ever was one. Needing the barest of accompaniments, Summeren pours herself into the song, letting her airy voice and perfect pitch carry her emotions directly to the listener. The song totally exposes the singer, and any kind of attempt to merely play at being a wounded lover would surely fail in this context. Summeren does not just pull it off, she can melt your insides.

Track Listing: Autumn; Space Unknown; Black Crow; The Memory; Three Windows; Skylark; In the Middle of the Night; You Don't Know What Love Is.
Personnel: Aafje van Summeren: vocals; Steve Blanco: piano; Adam Roberts: bass.
---